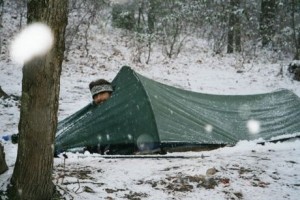 Appalachian Trail Day 49
Day 49  04-17-01      8:45 AM 6:45 PM
Jenny Knob Shelter – Docs Knob Shelter
22 miles, AT  –  608.6
Day 4 snow
Snow Squalls all day
The day started with the light rain, then it got cold and started to snow.  We procrastinated until 8:45 AM, then hit the trail.  It snowed heavily off and on all day.  We made great time all day.  We even took a side trip to Trents Grocery.  We got pizza and snacks.  We retrieved our packs from the woods where we stashed them and set off again.
Stubster caught me when I had to answer the call of nature.  Today was an Imondium AD day.  Not good!
Our plan was to stay at a hostel about 19.8 miles north of Jenny Knob.  When we finally got to the right road, we set off for the hostel.  It was supposed to be .5 miles down the road.  We passed a gun club that said Woods Hole, which is the name of the place we were looking for but kept going.  After 20 minutes cold, tired and confused, we turned around.  Some hunters picked us up.  The gun club was the right place.  It was closed unlike what we were told.  The hunters offered to drive us within 5 minutes of the shelter but we had to hit all the white blazes.  It was past 6 PM and snowing.  We hiked the next two miles in 40 minutes.  Since then it has been warm!!  I had dinner and now this.  Snow is blowing in on all of us.  Stubster is here and so is Big Blue Frog, who grew up on Randall Street in Easton!  Smokie and Bandit are on their way.  I put my raincoat on my feet to stay a little extra dry.  I hope condensation doesnt form like with the trash bag.
Scatman 2011- I do not recall Trent's Grocery for the life of me.  I totally remember getting to the dirt road where the hostel was supposed to be.  Agatha and I were quite tired and ready to be done.  After we walked past what was the hostel it was all up hill.  We got to a T in the road and there were trails leading off of the intersection but we had no idea.  The hunters who picked us up were drinking.  I hoped with only a short few tenths of a mile to drive us we'd be okay.

The night at the shelter was a crazy one.  It was snowing hard and super cold.  It wasn't as bad as Roan High Knob but since we were outside it felt like it.  I remember trying to get as small as possible so I could get as far away from the opening of the shelter as possible.  It was a long night.
———-
Scatman
Get out there!
https://oneofsevenproject.com/wp-content/uploads/2019/01/12-14-300x200.jpg
200
300
Craig Fowler
http://oneofsevenproject.com/wp-content/uploads/2017/01/1of7-logo-lockup-grey-1132x212-300x56.png
Craig Fowler
2001-04-17 09:00:11
2019-01-24 16:53:36
Appalachian Trail Day 49 - Jenny Knob Shelter - Doc's Knob Shelter