Most everyone knows you should leave an itinerary and let someone know where you're going before a day out in the woods.  I made this post "Bikepacking, Pre-Trip Considerations" as a guideline one should consider doing before they go bikepacking or touring.  Since not all of us go out for the same type of bikepacking adventure, I've broken things down into two categories:  Touring and Racing, when applicable. 
Touring being a adventure done at your own pace, with it's own personalized itinerary.
Racing being events like the Arizona Trail Race, Tour Divide, Colorado Trail Race, or some other bikepacking event.
Through years of planning thru-hikes and bikepacking trips I've learned that planning for a month long bikepacking trip is no different than planning for a 2 day trip.  If you're going to do either right, the steps are going to be the same.
Do you find this page valuable?
Shopping with our affiliates helps fund the development of content like this.
From gear, to resupply items and even mails drops if you use them, there are many things to think about before going bikepacking or a long bike tour.  Getting all of these things in order before you leave is key to an easier and less stressful time on trail for you, and for your "Handler" at home too.  Chances are your trip will be more successful as well.  
Consider using Google Sheet or making a 3-Ring binder with the following tabs/sections: Itinerary, Gear, Contacts, Mail Drops, Food/Recipes, and Bounce Box.  Of course you can add your own too.
Whether your Touring or Racing, you need a good itinerary.  Each discipline will call for different items in your itinerary but for the most part they'll be the same.  The biggest difference is a Touring itinerary is flexible and the chance you'll be able to stick to it is much better.
Some riders make spreadsheets, print out a page or tape waypoints to their stem or top tube.  Whatever you produce make sure it works for you and has as much information as possible. With that said keep it simple so you can understand it when it's 2 am, raining and your teeth are chattering so bad you can hold the sheet still.
Racing changes fast but that doesn't mean you shouldn't have a list of food sources, water, lodging, and bike shops available to you along the race course.
Making an itinerary is a good chance to familiarize yourself with resupply options and the route you're taking.  You'll be surprised how hard it can be to recall information during a tour/race.  Better to have it written down so you can review it at any time.  I looked at my itinerary multiple times a day and would have been lost without it.
The more information you have available the more options you have when the shit hits the fan during the tour/race.  Do your homework and be thorough.  What you do before you leave will most likely decide whether you finish or not. As the saying goes, "Knowledge is power!"
TOURING:
Not all of us have unlimited free time, most have deadlines, so having an itinerary is very important.  You're knowledge of what is where and how far, is always going to be greater than your Handlers (Family members).  Make things easier for them by giving them as much information as you can.
Your Itinerary should include:
Mileage
Towns
Phone numbers
Hours of operations
Water sources
Important turns
Any thing else you think you might want
RACING:
When it comes to Racing your itinerary is more of a loose guideline than anything.  Some people might tell you it's useless, but mine wasn't for telling me where to be, but just what my options were and where they were.
Bikepack racing brings with it a whole different set of things to consider over Touring.  Your planning has to be thorough and laid out in a format that is easy to digest once the clock starts.  Unlike with Touring you don't have the luxury of a Hanlder at home who can help.  Most bikepack races demand that you are self supported in every aspect of the race.
The concerns of a racer are very simple:
Food
Water
Lodging
Bike Shops
I looked at my itinerary almost daily so make it easy to read.  When you're tired you don't want to have to think.  Trust me you'll be tired, a lot.
This spreed sheet is available on Google Docs, where you can make a copy and personalize in the program of your choice.
TOURING:
Those of you who are Touring have the luxury of time.  This means you can take your time and possibly change out gear.  Before I leave for longer bikepacking trips, I put any items I think I might want/need to replace into individual bags.  Each bag has a number on it.  Make an accompanying spreadsheet with what is in each bag.  I keep a copy on my phone and print one for my Handler to go in this section.
It's not a bad idea to make a list of the items you're using, including sizes and the manufactures contact information and websites on a spreadsheet.   Your Handler can use this to order you a replacement if you by chance need one.
RACING:
With Racing less is more so it's always a good idea to list out all the gear you're planning on bringing with you.  Categorize them with categories like:
Condition
Level of Importance
Have/Need
Really try to limit what you bring and most of all, be comfortable with you gear choices.
TOURING:
When it comes to food you have multiple options.  They include:  buying/shipping food ahead of time, buying as you go, shipping food to yourself while on the ride, a Handler can buy your food as you go and ship it, or lastly your Handler can ship your pre-packages boxes as requested.
If you're buying as you go or going to ship to yourself along the route you're going to need to do some research to know what towns have for resupply options.  Resupply options vary greatly from town to town.  This means you have to carefully calculate your mileage and dietary needs before hand, so you have a resupply plan in place.
When I did my thru-hikes I didn't prepackage my mail drops.  Being a picky eater I wanted the ability to change my drops when needed.  I didn't want to waste money buying a ton of something, only to find out I hated it after a few weeks.
As a result my Handler, my mom, made up the following spreadsheet where she could read down the list and check off what I wanted.  That way I got exactly what I wanted.  (I understand not everyone has this option)
RACING:
Most Racers bring food they've bought before the start and food they find along way so there's no pre-race logistics to plan for.
This spreed sheet is available on Google Docs, where you can make a copy and personalize in the program of your choice.
This section should also have a list of recipes, including amounts in case your Handler needs to make supplemental meals for you.  
Since we're on the subject of meals, I can tell you I learned the hard way that it's a good idea to know the size of your meals before you leave.  What I mean by this is know the exact amount of each meal in your menu, assuming your Handler is making them as you go.  It took my mom and I three mail drops, which equalled over three weeks of hiking to get the correct amount of pasta for one of my meals because I didn't figure it out before I left.
To save having to deal with extra trash on the trail be sure to repackage your food ahead of time.  I went as far to repackage individual items then put everything that made up a days worth of food into a gallon size ziplock.  When I was on trail I could grab one and I had a whole day's worth of food without having to go through a ton of loosely pack food.
Lastly, think about making a list of the brands and flavors you prefer so that your Handler doesn't have to guess or waste time and money sending you ones you don't like.  Also if there is a certain item that needs to be purchased online or is only available at one location be sure to list websites or the location of this speciality store to make their job easier.
TOURING:
Mail drops are more of a thru-hiker thing, but I've learned that no one does bikepacking the same.  With that said here is what your mail drop sections should include.
Build a spreadsheet that includes columns for: 
Planned drop locations
Addresses
Ship Date (estimated)
Estimated Arrival Dates
Special instructions (Including how a package needs to be shipped or if it needs extra time)
Tracking numbers
Shipping Cost
Which maps/data pages go in each drop.
Some people might tell you to have your boxes labelled and sealed before hand.  The two main reasons this is potentially a bad idea, are that one, if your schedule changes the maps in each box may no longer be correct.  Secondly, if your diet changes making changes means unboxing pre-sealed boxes.  So I find it better to leave my boxes open until you're sure their ready to ship.
Don't forget to label your mail drops with your ETA and think about using unique tape or ribbon so your box stands out from the hundreds of others.
RACING:
As time is the enemy when bikepack racing, stopping for a mail drop is highly unlikely.  The only place I can think of a racer might ship a mail drop to is the Grand canyon, so they have shoes and a pack for the Big Ditch.
This spreed sheet is available on Google Docs, where you can make a copy and personalize in the program of your choice.
TOURING:
When you're on the trail you may run into a situation where you or your Handler needs to contact a manufacturer, trail groups, emergency agencies or anyone else important.  Make a list of important contacts so if the unthinkable happens you can get it fixed  (Plus if you break or lose your phone you can at least call your Handler and they can relay the needed information to you.)
RACING:
Since outside help is not allowed, Racers can skip this section.
TOURING:
Some hikers use a bounce box.  A bounce box is a box of items that you don't want to carry throughout the whole hike but only need some of the time.  Items like extra maps, Q-tips, fingernail clippers, spare toilet paper, or any other item you can think of.  
Some locations on the your bikepacking route may not have the ability to ship items out.  Make sure you know where these are, so you know where not to ship your bounce box to. 
RACING:
N/A
TOURING & RACING:
When it comes to going on an bikepacking trip there's a lot of things one should consider on the personal side of life.  Like with Logistics this section is as much for you as it is for support crew or Handler at home.  It may seem like overkill but you never know what life will deal you.  Consider the following areas to address:
Living Will
Power of Attorney
Healthcare Proxy
Healthcare
Identification Cards
Banks Accounts
Passwords
Identification Tags
Bills
LIVING WILL:
No one wants to think about it, but the unexpected can happen to anyone of us, at any time.  Writing up a living will is more for your love ones and is a good way to insure if something should happen to you, they will know what your wishes were.
POWER OF ATTORNEY:
Like a Healthcare Proxy, a Power of Attorney gives anyone you assign the power to make decisions on your behalf if you become mentally incapacitated.  Those decisions include private affairs, business, or some other legal matters. 
HEALTHCARE PROXY:
Health care rules say parents and spouses are the only people who are allowed to make decisions and discuss any medical issues if you get hurt.  If you want someone else to have this power, a Healthcare Proxy is needed.  Proxies can also dictate those who you don't want to have access or powered as well.
HEALTHCARE:
When traveling or on an extended adventure you might look into Travel or Catastrophic Insurance.  Costs might be better than your current plan and offer things like evacuation coverage in case you need to be flown out of a remote area.
Leaving your Handler (and having a electronic copy on your phone) of your medical history is a good idea before any adventure.  I've attached a link here, to the one I use.
INDENTIFICATION CARDS:
Make copies of your passport, drivers license, health insurance or other important cards from your wallet.  You should keep copies on your phone and leave hard copies with your Handler.
BANK ACCOUNTS:
If you're single or even married you probably have personal bank accounts.  If so, only you have access.  Either add a second person to your personal account or supply someone you trust with the login and password to your account/bank.
PASSWORDS:
It's impossible in today's world not to have a list of passwords for important websites that we access regularly.  You might think about giving this list to someone you trust in case you die or need them to access one of these sites while you're on the trail and can't.
INDENTIFICATION TAGS:
I wear dog tags daily, not because I'm in the military but so I don't have to continually transfer my ID from outfit to outfit.  Consider purchasing dog tags that include your name, blood type, allergies, and contact info for next of kin.  I also put a copy on my pack, in case I get separated from it.
BILLS:
Consider prepaying any bills that will come due while you're away or use your bank's online bill pay to set up the payments ahead of time.  Be aware that if you're using your credit card while on your adventure the minimum payment may go up.  If possible pay more than just the minimum payment to ensure you cover the change.
As an affiliate partner, One of Seven Project earns a commission for purchases made through any product, brand logo links, or banner ads on this page. Thanks for your support!
There's a ton of planning that needs to be done when doing a bikepacking trip.  The more you do before hand the better prepared you'll be once you get on the road/trail.  From mail drops, to maps, to which towns to stop at and more, there's plenty to do.
The more information you have at your disposal while on road/trail, the more options you'll have.  If things go south and you've done your homework before hand, whatever the issue is it will be a lot easier to deal with.  Some examples of things to research before hand are:  alternate routes, shuttle options, trail angels, bailout options, hours of operations, snow conditions, water reports, fire closures, friends/family along the trail, and general road/trail closures.
This spreed sheet is available on Google Docs, where you can make a copy and personalize in the program of your choice.
Here is a list of the One of Seven Project's Bikepacking Planning guides.
When it comes to your gear I have this to say: "Know your gear!!!"  This might seem like a no brainer but recently I went on an bikepacking trip and my new headlamp was in the locked mode.  I was out for 3 nights and never figured out how to unlock it.  A one minute phone call to Petzl answered my question and confirmed that even Triple Crown hikers/bikers are prone to dumb mistakes.
Items like headlamps with multiple functions or cameras can be complex with many features. Think about downloading a PDF of the instruction manual or photographing the important pages, so you can access them in the field, via your phone.
Most likely not all your gear is new before you go bikepacking.  If you have any down items like a sleeping bag or jacket, consider washing them before you go.  Over time down loses it's ability to loft due to dirt and oils, resulting in loss of warmth.
While on the subject of of gear, it must be said that no one gets their bikepacking set up right the first time.  Try multiple set ups in various conditions.  Load your bike in different ways, you might just find out that the one you thought was best wasn't and there was a better way.  If you are questioning a piece of gear or how a certain piece is mounted, don't just pass on addressing it.  Solve the issue before you leave.  It's easier to address issues at home than on the side of the trail. 
Don't just pack your bike in the garage.  Nothing beats real life experience.  Get out and test ride each set up!
Available on Google Docs, where you can make a copy and personalize in the program of your choice.
MY GEAR LIST:
My gear changes from trail to trail. Each trail has its own set of special needs. It's important to research each trail properly so you know what gear is needed and what isn't.
Some of us resist bringing electronics on bikepacking trip but for those of us who do this means extra steps should be taken before we leave and loose cell service or the ability to power those devices.
Apps: – Make sure you update your phone's operating system and any apps before you leave.  There's nothing worse than trying to update your phone over a poor connection.
Maps – Maps take up a lot of space, so most mapping programs don't work offline.  Be sure to download the maps you need before you leave so they can be of use to you.  Once offline accessing them might be impossible depending on which program you use. (GAIA is a good resource for creating offline maps of your adventure)
If you plan to leave your paper maps behind and only use your phone, consider taking TWO pictures of the map, so when you mistakenly delete one like I did once you have a back up.
GPS – Know the ins and out of your device.  Know how to trouble shut the common issues.  More times than I can remember I've heard of bikepackers losing GPX files or having them get corrupted.  Like with your maps, consider loading two tracks with the same data but with different names.  You'll have a back up if the shit hits the fan.
Devices – Charger them before you leave.  If you have time, test how long they will last on one charge.  If you're using a battery pack, knowing how long it takes to charge or how many charges it will give you is important to know before you leave.  Do you have the correct cords to charge all your devices?
Insurance – Consider getting insurance for your phone or other devices.  Having insurance can expedite replacement time, which means less time waiting in town for that replacement or less time without a needed piece of gear.
POST THRU-BIKE: HAVE A PLAN
Before you leave for your bikepacking trip it's very important you have a plan for what comes next. It's one thing to have your Bikepacking, pre-trip considerations, it only makes sense to have post-trip considerations too.
For me personally, the lack of a goal and direction after my adventures has lead to post trail depression.  If you're lucky enough to have your job waiting for you, great.  If not, put some thought into what will be your next steps.  Where will you live and work if you had to give them up?  What will be your source of income and how much time/money do you think you'll have left to figure out what's next?
Doing this will make your life easier and less stressful when you reach the end of your thru-bike.  Trust me, the transition back to "real life" isn't always easy.  A little planning before will make a huge difference.  What you want to do and where you want to be might change during your thru-bike, but any plan is better than no plan.
MORE RESOURCES
Read these next or checkout the main resource page.
MY PROVEN GEAR LISTS FROM THE TRIPLE CROWN
Gear lists from the AZT, TD and CTR; Pros & Cons; Things I'd do different; and Tips.
In depth look at what I would bring for gear and why, if I rode the Tour Divide, CTR, and AZTR again.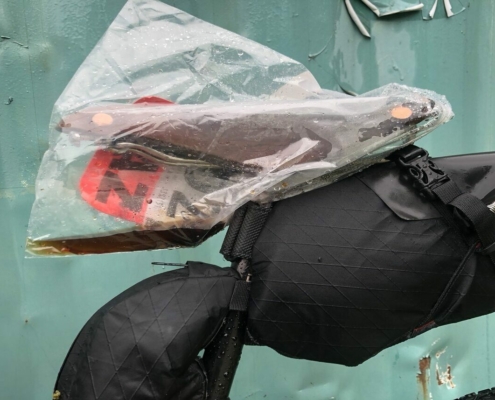 https://oneofsevenproject.com/wp-content/uploads/2021/02/rsz_ce61a8f9-0b12-4e41-b403-e902df8f4593.jpg
857
1493
Craig Fowler
http://oneofsevenproject.com/wp-content/uploads/2017/01/1of7-logo-lockup-grey-1132x212-300x56.png
Craig Fowler
2021-02-04 11:44:29
2021-02-10 12:35:03
Bikepacking - How to Care for Your Butt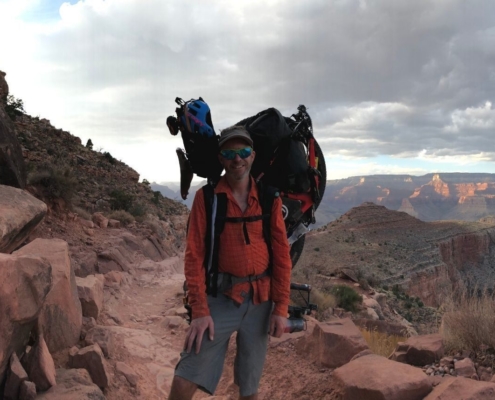 https://oneofsevenproject.com/wp-content/uploads/2020/04/rsz_untitled_design_87.jpg
857
1493
Craig Fowler
http://oneofsevenproject.com/wp-content/uploads/2017/01/1of7-logo-lockup-grey-1132x212-300x56.png
Craig Fowler
2020-11-06 08:50:03
2021-05-22 08:29:10
Bikepacking Carrying Harness 101
https://oneofsevenproject.com/wp-content/uploads/2020/04/rsz_untitled_design_81.jpg
857
1493
Craig Fowler
http://oneofsevenproject.com/wp-content/uploads/2017/01/1of7-logo-lockup-grey-1132x212-300x56.png
Craig Fowler
2020-05-19 10:09:31
2020-10-26 10:01:03
Most Common Bikepacking Injuries
https://oneofsevenproject.com/wp-content/uploads/2018/11/Untitled-design-19.jpg
857
1493
Craig Fowler
http://oneofsevenproject.com/wp-content/uploads/2017/01/1of7-logo-lockup-grey-1132x212-300x56.png
Craig Fowler
2020-04-01 08:07:05
2022-02-14 13:20:52
Gear Review - If I Rode the Arizona Trail Race Again
Checkout our bikepacking resource page for more planning help.
Throwing out of bounds sucks!
(men's and women's available).
Celebrate your thru-hiking class with the Class of ___ T-shirt!
(men's and women's & nobo and sobo available).
It's June. Ride, Eat, Sleep, Repeat Arizona Trail Race.
(men's and women's available).
Checkout all our available products in our store, and thanks for the support!
Support the Project
Simply clicking on the links below with our affiliates supports the Project.
Or checkout our Deals page to save big!
As an affiliate partner, One of Seven Project earns a commission for purchases made through any product, brand logo links, or banner ads on this page. Thanks for your support!