If I Hiked The Long Trail Again
The Long Trail was my first long hike after completing the Appalachian Trail. I learned a lot on the AT and wanted to apply what it taught me. The most important lesson I learned on the AT was Trail Confidence. I learned what I could and couldn't deal with, what worked and what didn't. What follows is my gear choices and thoughts If I hiked the Long Trail again.
One of the biggest things I learned was I knew I could carry less and still feel safe. When I did the Long Trail the first time, I ended up going as light as I thought possibly for me at the time. If I hiked the Long Trail again I would definitely be going faster and lighter.
Do you find this page valuable?
Shopping with our affiliates helps fund the development of content like this.
Hopefully by doing more miles I can use a smaller bag since I'll be carrying less food between resupplies.
Gossamer Gear Spin Twin Tarp or
With shelters I wouldn't really need a tent and I'd try to plan my stops at shelters.
Sierra Designs Clip Flashlight
The biggest change I made then was using a much smaller pack than I used on the AT. It forced me to rethink everything I carried. I would use that same philosophy if I hiked the Long Trail again. Keeping the amount of gear I had and weight to a minimum would be key.
During my first go of the LT I mainly stayed in shelters. This can be very limiting when it comes to mileage. This time I'll only stay in a shelter if my day happened to end at one. I would mainly use them for cooking and finding water.
or maybe my Enlightened Equipment Enigma Quilt.
I don't own the Marmot anymore. I might even take my 40 degree Big Agnes.
Which pad I bring depends on pack space and how well it will fit with which ever pack I use. The Thermarest Z-Lite / BA Foam / Thermarest Uberlite are all possibilities.
Less clothes means no makeshift pillow, and let's face it the BA AXL pillow is comfy.
The main reason for the change of sleeping bags was that my original one was very old and I wanted to upgrade to a newer model with modern fabrics and design technology. My new Big Agnes Flume UL 30 is the perfect bag for a Long Trail thru-hike. If the temperatures were going to be high I might even use my Big Agnes Pluton UL 40.
As stated above my pad choice has a lot to do with which pack I use and which pad best fits with that pack. I've used all of them and can be comfortable with any of them.
Lighter, more versatile, and readily available. They're also easier to get in and out of the side pockets of your pack.
32 oz Gatorade Bottles (2)
Simple to use and clean, and small and compact.
The major changes to my hydration set up are taller water bottles which are easier to get in and out of my pack, carrying less water, and using a Sawyer Squeeze instead of Aqua Mira. This is a result of what I like to call Trail Confidence. I've learned how much water I need and only carry what I need.
I stopped using Aqua Mira for two reasons. First, I don't like the wait and secondly, I don't need to use chemicals anymore.  I love that I can drink right away with the Sawyer. It's also simple, easy to back flush, and light.
Over the counter kits have items I don't use or know how to use. Building my own with things I use and know just makes sense.
I would simply cover up or keep moving over using Deet. Also late season hiking should mean less bugs.
Doesn't irritate my eyes.
Tooth brush, flosser & paste
No change but adding a flosser.
Less bulky, more versatile, and better at cleaning up.
Disposable Contacts or get Lasik
I would love Lasik but the cost is a barrier to getting get for me. The daily wears are much better for my eyes, than wearing regular contacts for multiple days like I did the first time.
Glasses & contacts & case / contact fluid
Since my early days I've carried a small first aid kit, but it has also changed over the years as I have learned more and gained trail confidence. By carrying a limited amount of first aid, I'm basically weighing my skills and the risks of hiking. I'm gambling.
I've accepted I can't control every thing and stopped trying to. With this in mind, I constantly monitor my situation, use good judgement, and make smart decisions when in the backcountry. With the goal being to limit my chances of injury.
My current First aid kit is smaller and simpler. Two things I did add were duct tape and K-tape.
Much lighter and more compact.
Use iPhone with Guthook App
One item to do multiple things and IMO the trail is not hard to follow.
One item to do multiple things.
One item to do multiple things.
The number of odds and ends I carry has grown and shrunk over the years. They always seem to grow while on trail, then I realize it and I cut them back again. Nowadays I do my best to keep my odds and ends to the absolute minimum. I'm not a fan of clutter. The less gear I have, the easier it is to keep my gear organized.
They make the best lights and their rechargeable.
It has both quick charge and quick output.
Phone/Camera/Navigation/Journal
One piece of equipment to do many things. Camera, maps, phone, journal, compass, and more.
One item to do multiple things.
A Lifeproof or similar waterproof case.
Phone protection is a major concern, as I relay on it for so many things . Breakage isn't an option.
It's equipped w/ multiple ports and offers quick charging.
One to fit both Ravpower and Petzl
iPhone charging cord
One item to do multiple things.
I don't find they're worth carrying and would rather use an external battery. I found I spent too much time worrying or fiddling with my solar panel to ensure it was in the sun.
One item to do many tasks.
Over the last 17 years technology has changed a lot. I no longer have to carry individual batteries or search the store for the smallest package so I don't have to carry extras. Head lamps are brighter, last longer, have rechargeable batteries. Phones allow one to navigate, journal, take photos and more.
Compared to my first Long Trail thru-hike, I carry a lot of electronics now. I try my best to keep my electronics to a minimum. The goal being to save on bulk and weight.
Using my phone for a camera, journal, navigation, and a phone allows me to combine many things into one. As mentioned above this allows me to carry less weight and bulk, but also means less cords to carry and manage.
Carrying only items that use rechargeable batteries on all my hikes, allows me to save weight and the environment. I use external battery packs to charge all my devices. Solar panels are not efficient on the LT due to the tree cover. External batteries are just simpler and faster.
I realize my fast and light style isn't for everyone but there's still lessons to be learned. My gear choices above reflect my style and goals for another Long Trail attempt.
I've taken what I learned from all my hikes and from my previous time on the Long Trail to build the gear list I think would work best for me. How I hike has changed over the years. These days I enjoy solo hiking and I doing bigger miles. My gear and other decisions reflect this change.
It's my hope that this If I Hiked the Long Trail Again post will help others considering doing the trail for the first time, understand what one veteran hiker would bring when it comes to gear and help them in planning their own attempt.
Finally, I encourage you to build your gear list to match your personal needs and style. This post is meant to assist in that process. Do your own research, go on shakedown hikes, and build your trail confidence before hitting the trail. Good luck.
MORE RESOURCES
Read these next or checkout the main resource page.
MY PROVEN GEAR LISTS FROM THE TRIPLE CROWN
Gear lists from the AT, PCT and CDT; Pros & Cons; Things I'd do different; and Tips.
In depth look at what I would bring for gear and why, if I hiked the AT, PCT, LT, and CDT.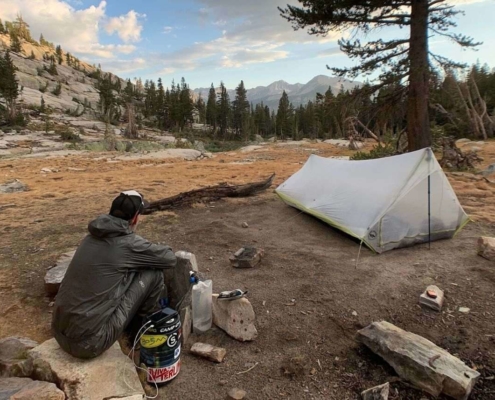 https://oneofsevenproject.com/wp-content/uploads/2020/04/rsz_1untitled_design_83.jpg
857
1493
Craig Fowler
http://oneofsevenproject.com/wp-content/uploads/2017/01/1of7-logo-lockup-grey-1132x212-300x56.png
Craig Fowler
2020-04-21 12:02:37
2020-11-06 08:56:08
How to Pick the Perfect Campsite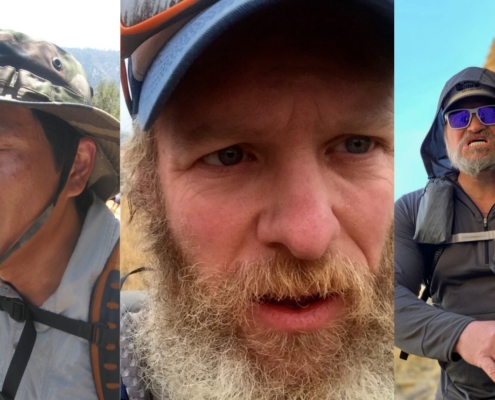 https://oneofsevenproject.com/wp-content/uploads/2019/12/LC4-23.jpg
857
1493
Craig Fowler
http://oneofsevenproject.com/wp-content/uploads/2017/01/1of7-logo-lockup-grey-1132x212-300x56.png
Craig Fowler
2019-12-28 18:36:14
2021-05-22 09:04:38
Top 5 Reasons Thru-Hikers Quit
https://oneofsevenproject.com/wp-content/uploads/2019/02/Untitled-design-32-2.jpg
857
1493
Craig Fowler
http://oneofsevenproject.com/wp-content/uploads/2017/01/1of7-logo-lockup-grey-1132x212-300x56.png
Craig Fowler
2019-02-10 16:18:03
2022-02-15 09:18:49
Most Common Mistakes Thru-hikers Make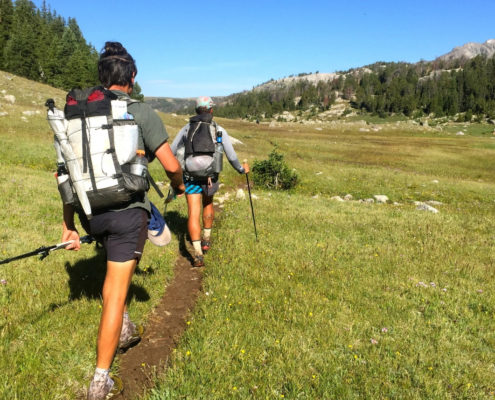 https://oneofsevenproject.com/wp-content/uploads/2019/01/Untitled-design-49.jpg
857
1493
Craig Fowler
http://oneofsevenproject.com/wp-content/uploads/2017/01/1of7-logo-lockup-grey-1132x212-300x56.png
Craig Fowler
2019-01-04 19:25:49
2022-02-15 09:23:06
Mental Side to Going Ultralight
Checkout our bikepacking resource page for more planning help.
Throwing out of bounds sucks!
(men's and women's available).
Celebrate your thru-hiking class with the Class of ___ T-shirt!
(men's and women's & nobo and sobo available).
It's June. Ride, Eat, Sleep, Repeat Arizona Trail Race.
(men's and women's available).
Checkout all our available products in our store, and thanks for the support!
Support the Project
Simply clicking on the links below with our affiliates supports the Project.
Or checkout our Deals page to save big!
As an affiliate partner, One of Seven Project earns a commission for purchases made through any product, brand logo links, or banner ads on this page. Thanks for your support!