My Proven Triple Crown Hiking Gear List
This page covers the hiking gear I used on the thru-hiking triple crown (Appalachian Trail, Pacific Crest Trail, and Continental Divide Trail). I cover everything from the shoes on my feet, to the pack on my back, and everything in between. My Proven Triple Crown Hiking Gear List should help you decide what is right for your gear list.
When I started hiking I was like most people, I didn't have a clue. As a result, I made most of the classic backpacking/hiking rookie mistakes.  Things like the wrong clothes and too many, thinking I needed more than I did, forgetting basic items and more.  Throughout my hiking triple crown and thousands of miles of hiking I learned a lot, but also gained what I call "Trail Confidence".  It's what allows one to take less, go further, see more and feel safe doing it.
Finally, it's important to recognize that how you approach selecting your gear, which gear you bring and how it's packed and used on trail is the same for an overnight hike, to a multi-day thru-hike like the Appalachian Trail.  Furthermore, most of the gear is the same gear you'd take bikepacking.  Checkout my page on bikepacking gear, or scroll down to continue with the hiking gear.
My posts AT vs. PCT and PCT vs. CDT might help you understand just how different the three trails of the Triple Crown.
Do you find this page valuable?
Shopping with our affiliates helps fund the development of content like this.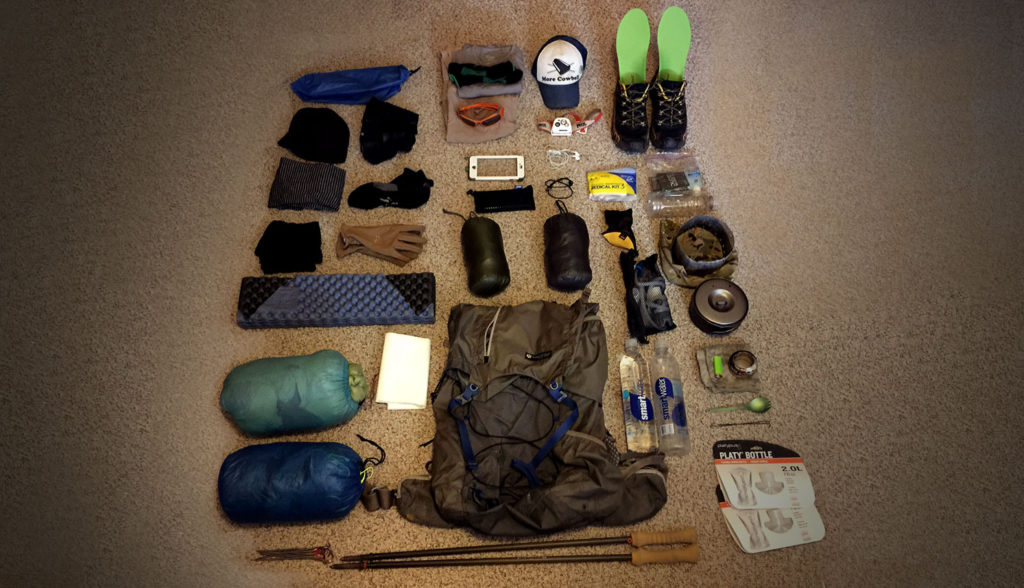 Due to the fact I was a newbie, I bought a big backpack and of course filled it and then some, for my first thru-hike.  With that said I did have the idea I wanted to keep the weight down.  I simply didn't know how yet.
The Appalachian Trail was a crash course in of itself on hiking.  Consequently I learned so much and as you'll see in this Pack section and the other throughout my gear choices changed drastically and I took less.
Like with my bicycle during my bikepacking triple crown, where I gave him a name (Phillip The Trail Donkey), I also named my pack.  All my packs had the same name, Bessy. YES, I talked to them daily and we were/are the best of friends .
APPALACHIAN TRAIL
Base weight:  25 +/-  lbs
PACIFIC CREST TRAIL
Base weight:  13-14 lbs.
CONTINENTAL DIVIDE TRAIL
Base weight:  11-13 lbs.
PACK DIFFERENCES BETWEEN TRAILS
APPALACHIAN TRAIL
The Appalachian Trail (AT) was my ground zero if you will.  Consequently, I was super happy with my choice, as I didn't know any better.  In 2001 when I thru-hiked the AT most people had similar packs and Ultralite (UL) hiking hadn't gone mainstream.
PACIFIC CREST TRAIL
By 2007 I had refined my hiking gear choices, and as a result my pack and what I carried were much different.  After the AT I did the Long Trail in Vermont and went UL.  Most noteworthy from that trip I learned what my limits were on comfort and applied that to my PCT hiking gear set up.
CONTINENTAL DIVIDE TRAIL 
In 2015 when I thru-hiked the Continental Divide Trail (CDT) I would have liked to be even lighter than the PCT, but I didn't mentally feel like I wanted to give up what I "thought" I needed.  I did end up using the same pack for part of the CDT that I did the whole PCT on, but I also used a Gossamer Gear Mariposa.
PROS:
Comfort – AT
Access to gear – PCT & CDT
Durability
For the most part I was happy with all my choices.  I had the space needed for my choice of hiking gear and felt each pack carried the weight well.
CONS:
The Mariposa had a annoying squeak in the shoulder strap.  While on the PCT both my load lifter straps almost tore off my ULA.  Consequently, both issues were a result of over loading the packs past their maximum load rating.
WHAT DIDN'T WORK:
I'm happy to say none of my choices didn't work and they met all my needs during my three trails.
THINGS I'D DO DIFFERENTLY:
If I thru-hiked any of the three trails again I would most likely go lighter and take a small pack
FINAL THOUGHTS:
Your pack is the foundation of your complete hike gear set up. It determines how much you can carry and really defines what type of hiker you are.  For me I'm always wanting to see more and go further, so as a result my packs get smaller.
TIPS:
No matter what size pack you get, you WILL fill it.  If you want to carry less, start small. Checkout my post on Cutting Pack Weight to lighten your own load.
It's easier to change out your gear in pack verse changing out your pack (without changing the gear) while on the trail.  Choose wisely.
Trash bags are cheaper and work better than pack covers.
Starting my triple crown with the AT, I became a "Shelter Rat". A Shelter Rat is someone who only hikes from shelter to shelter, only putting up their tent when absolutely necessary.  As a result, I only tented 16 times in 152 nights.
Since the AT I have learned the benefits of using one's tent.  My tent is my castle and I like full coverage, ease of set up, and for it to be as light as possible.  My last two tents have been from Zpacks and I've concluded that if I could, I would combine feature from them both for my perfect shelter.
APPALACHIAN TRAIL 
Tent – Sierra Designs UL Clip Flashlight w/ Ground sheet
SHELTER SET UP DIFFERENCES BETWEEN TRAILS
APPALACHIAN TRAIL
I chose the Clip Flashlight due to it's minimal weight at the time.
PACIFIC CREST TRAIL
By the time I got the PCT I was past double wall tents and ease of set up was a big factor for me.  Most of all, I knew I would be spending much more time in my tent than I did while on the AT.
I started the PCT with a tarp, due to a hold I put in my tent on the bike ride to the start.  The tarp was tough to master at first and I had my reservations, but in the end I felt worked well.  The Contrail by Tarp Tent was probably my favorite tent of all.  I wish it came in cuben fiber.
CONTINENTAL DIVIDE TRAIL
Just like with the PCT, I started with my tarp.  This time due to a delay in production of my tent.  The Zpacks Solo Plus tent was super roomy, was easy to put up but really tricky to get set up properly.  I made the switch from the Tarp Tent because I wanted the advantages the cuben fiber (doesn't stretch with moisture).
PROS:
Lighter than most – Solo Plus
Simplistic
Versatility – Tarp
Ease of set up – Contrail
Most of all I was happy with my choices.  The pros out weighted the cons but none of them were perfect, if that even exists.  My needs change from trail to trail so perfect is matching tent to trail I guess.
CONS:
Protection from wind – Tarp
Set up tough to get right – Solo Plus
Large foot print – Solo Plus
Sagged in rain – Contrail
As I said above the Cons weren't anything I couldn't deal with or over come while on the trail.  
WHAT DIDN'T WORK:
All my set ups worked well.  When I did face adverse conditions extra care had to be taken but they were't unmanageable.
THINGS I'D DO DIFFERENTLY:
If I hike any of the three trails again I would do the following:
Possibly make a homemade tent out of cuben fiber that met my personal needs for that trail.
FINAL THOUGHTS:
As far as hiking gear decisions go, picking the right shelter is quite important.  Do your research and pick the set up that makes you feel the most comfortable.  My tent is my safe place while hiking or bikepacking so it's go to meet my personal needs to give me a comfortable and enjoying nights sleep.
TIPS:
Really know what your comfortable with in terms of sleeping (Cowboy Camping, Partial or Full protection)
Easier to say than to do, but don't let price dictate your buying decision.
Tarp users should learn multiple ways to pitch their tarp depending on weather conditions.
Down, Down , Down!  I love down.  A common thought with most new hikers is that down is bad and it's only a matter of time before you get it wet and freeze to death.  The reality is much less grim.  I'd be lying if I said I didn't have a few nights of wetness during my triple crown.  If you take a few simple precautions using a down bag is not a problem.  
The other part of your sleep system is surrounded by myths too.  Sleeping pads don't need to be thick to be comfortable.  A simple closed cell foam pad combined with a soft surface is just as comfortable as a 3″ air pad, and much lighter.
SLEEP SYSTEM SET UP BY TRAIL
APPALACHIAN TRAIL 
Pad – Thermarest Guide Lite
Sleeping Bag – Feathered Friends Raven 10 degree
Sleeping Bag – Marmot Arroyoro 30 Degree
SLEEP SYSTEM SET UP DIFFERENCES BETWEEN TRAILS
APPALACHIAN TRAIL
I went for comfort on the AT when I chose my pad.  With no real experience I didn't really consider other options.  Starting with a 10 degree was a must as I started Feb. 28th.
PACIFIC CREST TRAIL & CONTINENTAL DIVIDE TRAIL
For the PCT and CDT I went with a closed cell pad for two reasons.  The first being I didn't want to deal with repairing a self inflating pad, and secondly, I like the ease of use.  For me blowing up and then folding up a self inflating pad is a pain in the ass.  I also sleep just as good on my Z-Lite.
As far as sleeping bags are concerned I found my sweet spot or temperature to be a 20 degree bag.
PROS:
Small & packable
Weight
Versatility – Z-Lite
I liked the ease of use of the Z-Lite Sol over the Guide Lite.  The warmth to weight ratio and packability of the down over synthetic is always a winner in my book. 
CONS:
Extra caution to keep down dry.
Price
Packability – Z-Lite
None of the Cons were anything that I can't live with.  Keeping my down has never been a problem and fortunately for me I don't let price stand in the way.  
WHAT DIDN'T WORK:
Everything I choose for each trail worked well.  Each had it's pros and  cons as stated above but none were horrible choices.  
THINGS I'D DO DIFFERENTLY:
If I thru-hiked any of the three trails again I wouldn't do much differently.
I would carry the Z-Lite Sol pad on all three.
Bring the a quilt on all trails.
FINAL THOUGHTS:
All my set ups were good choices.  Sleep is very important during events like these so be sure your sleep system actually works.  You can't hike all day, day after day without proper rest.
TIPS:
The wood decks of the AT's shelters can be hard and unforgiving.  I would suggest a 3/4 NeoAir.
Put you pack under your feet if they get cold on the deck or ground.
If your down sleeping bag isn't new before you go, be sure to wash it so its performing at its maximum.
Like all gear, clothing is different from person to person.  Most of the basics are the same but we all have little differences in our kit.  Most of my changes to my kit were to things I wore day to day, and not my camp clothes. Comfort and utility are always two of the main factors for me when picking clothing items. 
My goal is to always be as warm and dry as possible in any situation.  As a result I strictly focus on using merino wool and down items over synthetic ones whenever possible.  It took some work but I figured out the right set up, about 4000 miles. With that said, my kit is constantly changing when newer and better items become available.
CONTINENTAL DIVIDE TRAIL
WORN
Camp Clothes
Jacket – TNF Denali
Hat – Turtle Fur Fleece
Socks – Smart Wool Med. Hiker Crew (1 pr)
Shoes – Adidas Sandels
Sleep Top – Patagonia Capilene L/S
Sleep Bottom – Patagonia Silk Boxers & Capilene Long Johns
CLOTHING SET UP DIFFERENCES BETWEEN TRAILS
APPALACHIAN TRAIL
The number one thing I did wrong on the AT was bring too many clothes. I would put my clothing on a major diet and really figure out what was truly needed and nothing more.
PACIFIC CREST TRAIL 
When I hike the PCT I had trimmed down my clothing to a respectful level from that of the AT. Because of the sun I went for long sleeves and used both a button down shirt from the GAP and a short sleeve wool t-shirt with sun sleeves during the second half.
CONTINENTAL DIVIDE TRAIL 
My clothes between the PCT and CDT where much different.
PROS:
Versatility
Take less = Less weight
Sun protection
As the first bullet points says my clothing kit was versatile. I was able to adapt to the conditions I faced and this gave me confidence.
CONS:
Slow drying – Pants on CDT
Too many clothes on AT
Both cons were a result of not testing gear thoroughly before hand and could have been avoided.  
WHAT DIDN'T WORK:
Cowboy hat wouldn't stay on in the wind. Impulse buy for sure.
Not having the right hat and Sunglasses on the CDT meant replacing them mid hike, costing me time and money.
THINGS I'D DO DIFFERENTLY:
Bring less clothes on the AT.
No rain pants on the PCT, maybe a rain wrap. Synthetic button down over cotton.
Darker sunglasses, ball cap over a visor, and better drying pants for the CDT.
FINAL THOUGHTS:
Clothing is no different from any other kind of gear. Figure out what works for you, bring less, and craft your clothing list based on the trail. What works for one might not work for the next.
TIPS:
Down over synthetic.
Less is more, don't over pack. You can't leave the extra at the hotel.
A buff is the one item that you'll use a ton. Bring one.
My cooking kit started with a MSR Whisperlite International way before my Triple Crown. Over the years it evolved to what it is now. As my Trail Confidence grew and my trail diet formed what I cooked with and how I cooked it changed. Like more of my gear my Hiking Cook Set Up is all about simplicity. 
When it comes to hydration my goal is just like that of cooking. I want simplicity. I don't want to waste time filtering or bad tastes. I've used a range of filtration options and items to carry my water. In the end I use the simplest method available.
HYDRATION/COOKING SET UP BY TRAIL
APPALACHIAN TRAIL 
HYDRATION
PACIFIC CREST TRAIL
HYDRATION
CONTINENTAL DIVIDE TRAIL
HYDRATION
HYDRATION/COOKING SET UP DIFFERENCES BETWEN TRAILS
APPALACHIAN TRAIL
My choices for the AT were based on what was available at the time (2001) and what was accepted practices at the time. Most items were heavy, bulky, or time consuming. They worked but as I would learn there were best options all around.
PACIFIC CREST TRAIL
After my experiment of going ultralite on the Long Trail, my knowledge and Trail Confidence allowed me to make vast changes to how I cooked and filter, and what items I used to do both. The changes I made were to save weight and time. My custom wind screen built during the PCT solved the issue of a tippy stove/pot interface.
CONTINENTAL DIVIDE TRAIL
The only real difference between the PCT and CDT was changing from using Gatorade bottles to Smart Water bottles to carry/drink from. They Smart water bottles are slimmer making them a better fit in side pockets and they're easier to get out while your pack is on.
PROS:
Simple
Time efficient
Cost effective
I really like my cooking and filtration set up as a unit. Without sounding like a broken record, I love their simplicity. They are also very reliable too.
CONS:
Fuel weight
Fuel availability can sometimes be hard to find
WHAT DIDN'T WORK:
Canister stove cooking on wobbly AT picnic tables.
Besides stability issues with canister stoves, most of  my issues have revolved around filters that clog (most likely to improper maintenance on my part).
THINGS I'D DO DIFFERENTLY:
I'm looking into just bringing a small titanium mug and cooking my meals in an insulated bag. Less weight, bulk, and clean up.
FINAL THOUGHTS:
Like any piece of gear, make sure you're comfortable using it. Your hydration/cook set up should be no different. Find what works for you, don't copy others.
TIPS:
Simple is better.
Have back up when it comes to filtration.
Base your set up on where you're going, each time it might be different.
During my 8000+ miles of hiking, I've learned to be safe or as close to safe as I can when in the woods.  Using prior experiences to judge new situations and approaching them with a level head has allowed me to trim down my Health/First Aid set up to the bare minimum. 
My kit shouldn't be simply copied to save time.  Everyone's set up should mirror their own personal experience, skill level, and comfort level.  Know your abilities and what you're comfortable with or without, then move forward from there when building your own first aid kit.
HEALTH/FIRST AID SET UP BY TRAIL
CONTINENTAL DIVIDE TRAIL
Vision – Glasses & contacts & case / contact fluid
First Aid – Assorted bandaids and wipes
Toiletries – Dude Wipes & hand sanitizer

Pain – Advil

Lip Baum

Oral – Tooth brush & paste
Sun Screen – Neutrogena Ultra Sheer
HEALTH/FIRST AID SET UP DIFFERENCES BETWEN TRAILS
APPALACHIAN TRAIL
During my AT thru-hike I carried the most medical supplies of the three. Oddly, enough help was the closest as well. Because of the weight of my pack and the roughness of the trail I consumed more pain relievers, thus carried more.
PACIFIC CREST TRAIL 
The biggest difference from the AT to the PCT was sunscreen and carrying less. Because I had gained experience I was comfortable with a smaller first aid kit.
CONTINENTAL DIVIDE TRAIL 
The only real change between the PCT and CDT was eliminating toilet paper and just strictly using Dude Wipes.
PROS:
The biggest Pro was barely using my Health/First Aid kit during my triple crown.
CONS:
If a major injury occurred I'd be in danger.
WHAT DIDN'T WORK:
THINGS I'D DO DIFFERENTLY:
Start with wet wipes like Dude Wipes.
Add K Tape to first aid kit.
FINAL THOUGHTS:
My Health/First Aid set up is compact and simplistic.  Besides a few bouts of diarrhea, a couple blisters, and some scraps and bruises I was pretty healthy on the trail.
TIPS:
Listen to what your body is telling you, NOT your ego.
Learn how to tape body parts like knees, ankles, shoulders or other parts prone to hiking injuries.
There are a few items on you hiking gear list that just don't really fit in. This section is about those items. This is were those one off items that are only needed on a certain trail live. Things like cramps on or ice axes. 
You'll noticed maps are in this section. I started hiking with maps because that's all there was at the time. Now with smart phones and app, I almost strictly just use the Guthook app to navigate. But just like with most gear choices on my list this is another one that might not work for everyone. I feel comfortable just using my phone, but most times I do have a paper back up.
ODDS/ENDS SET UP BY TRAIL
ODDS/ENDS SET UP DIFFERENCES BETWEEN TRAIL
APPALACHIAN TRAIL 
Due to when I hiked my odds and ends are different because the electronics I used later were not available.
PACIFIC CREST TRAIL 
With the introduction of electronics and the digital age my gear changed greatly. I also switched out my hiking poles mid way through the PCT to the Pacer Poles. They have an amazing grip.
CONTINENTAL DIVIDE TRAIL 
Again the biggest change for this trail was more electronics and the introduction of an umbrella for the sun of the CDT.
PROS:
Simple – AT

More data – CDT
As stated my AT items were simple and full proof, while the CDT items gave me vastly more information.
CONS:
Batteries can die
Wight (both hiking poles and electronic)
I've never ran out of battery power and the extra weight in my mind for the electronics is well worth it.
WHAT DIDN'T WORK:
THINGS I'D DO DIFFERENTLY:
No pack towel, just a bandana.
Electronic over paper maps – AT
Lighter poles like Gossamer Gear LT5.
FINAL THOUGHTS:
At the time I used what as available to me and it worked great. Know what we have today available I would do the previous hikes today with today's luxuries.
TIPS:
When I did the AT the only electronic items I had were my watch, headlamp and film camera. As time went on electronics and the digital era influenced my gear choices greatly. As I carry more electronics keeping them safe as added another concern to my hiking. 
Electronics have also changed my hiking in both positive and negative ways. One the positive side I have more information at my finger tips, which gives me more Trail Confidence. I can also reduce items by using my phone as a phone, camera, GPS, and journal. One the negative side electronics have made it harder to leave everyday life behind and disconnecting is harder.
ELECTRONICS SET UP BY TRAIL
PACIFIC CREST TRAIL
Headlamp – Petzl TakTikka +
Batteries – AA & AAA lithium
Cannon A710 Camera (Digital)
Phone – Flip (for half the trail)
Solar – Solio Solar Charger
Journaling – Pocket Mail
Music – Zune MP3 Player
CONTINENTAL DIVIDE TRAIL
Headlamp – Petzl Tikka RXP
Batteries – AA & AAA Lithium
Camera – N/A
Phone – Apple iPhone 6+
Solar – Power Traveller Solarmonkey Adventure Solar Panel (Replaced by Anker)
External Battery – Anker 15,000mAh
Phone Case – Life Proof Nuud
USB Block – Apple & Cord
USB Cord – One to fit both Anker and Petzl
ELECTRONICS SET UP DIFFERENCES BETWEEN TRAILS
APPALACHIAN TRAIL 
Electronics simple weren't available on the scale they are today so they were limited during the time of my thru-hike.
PACIFIC CREST TRAIL 
The big changes were a digital camera over film; electronic journal over paper; and addition of a cell phone and MP3. All of these meant power too.
CONTINENTAL DIVIDE  TRAIL 
As the list above show my CDT electronics were almost 3 times what my AT ones were. My headlamps gradually got brighter and more versatile (USB). My phone replaced my camera, mp3 and electronic journal.
PROS:
Versatile
More data available.
Better connected.
I think the bullet points above say it all.
CONS:
Harder to disconnect.
Weight
Possibility of water damage.
Hence why it's my first bullet point I think monitoring your use of your phone is the biggest draw back.
WHAT DIDN'T WORK:
I found that when I try to rely on solar power to charge my electronics I'm constantly worrying about whether my solar panel is in the sun, rather than focusing on the trail. Plus they don't keep up with power usage. 
THINGS I'D DO DIFFERENTLY:
FINAL THOUGHTS:
Electronics are a double edge sword. They help simplify things but at the same time can complicate them. Personally I appreciate what my electronics allow me to accomplish and think there worth the effort.
TIPS:
Find electronics that use the same USB cords.
Have back ups for back ups.
Proper waterproof storage.
Support the Project
Simply clicking on the links below with our affiliates supports the Project.