Bikepack
noun
noun: Bikepack; plural noun: bikepacking
1.

loosely define as backpacking with a bicycle.
verb
verb: bikepack; 3rd person present: bikepacking; past tense: bikepacked; past participle: bikepacked; gerund or present participle: bikepacking
1.

to bikepack a particular route.

"they had spent the day bikepacking the Colorado Trail"
A more defined answer would be any cycling trip (generally off-road) that includes an overnight stay. Bikepacking can range from single track to dirt road touring. Bikepacking differs from classic bicycling touring in that gear is usually carried in "soft" bags rather than on "hard" racks, ie. panniers (though some bikepackers have started using modified "hard" rack set ups for expedition style bikepacking).
Bikepacking is one of cyclings fastest growing segments. It's bring new riders into the sport and help veteran riders find new ways to explore on their bikes. Bikepacking has also created new routes, races, bikepacking specific bikes, components, gear and more.
Do you find this page valuable?
Shopping with our affiliates helps fund the development of content like this.
Bay Circuit Trail – Coming Soon!
Coconino 250 – Coming Soon!
If you cared to, you could break Bikepacking down into (4) categories. S24O (Sub 24hr Overnight), Multi-day, Ultralight/Racing, and Expedition. Just like you'll see in the bike section of this page, Bikepacking is what you make it. A lot of people try to put everything into neat little categories but at the end of the day Bikepacking is just what the simple definition says, "Bikepacking is loosely define as backpacking with a bicycle."
Let's take a look at the four classifications in a little more detail.
A S24O is when you go Bikepacking and the whole trip last less than 24 hours. They are a great why to test gear (shake down ride) and simply put, get out of the house. They are just shorter versions of Multi-day trips.
A Multi-day Bikepacking trip would be any trip that is longer than one day. Depending on where and what you're doing you may or may not have more gear than during a S24O. Mult-day Bikepacking trips can be broken down into two sub-categories: Ultralight/Racing or Expedition. They couldn't be any further apart.
Like with any sport there are always those who want to test themselves and push their limits. This is where Ultralight/Racing comes into the Bikepacking world. Since bikepacking began adventurous souls have been testing their physical and mental limits on routes like the Tour Divide or Colorado Trail.
Another sub-category of Multi-day Bikepacking, Expedition style rides can be loosely defined as multi-day trips where the route may or may not be completely off route. Some expedition style rides involve packrafting or other overland actives as well as bikepacking. They tend to be more secluded and off the beaten path. Some are even off route adventures.
Difference between Bikepacking and Bike Touring
PROS –
Lighter
Narrower (Means you can ride single track)
More bike options
CONS –
Less storage
Weight distribution (typically higher)
Bag configuration can be challenging
PROS –
Bag versatility
Weight distribution (typically lower)
More carrying capacity
CONS –
Heavier
Wider (Limits where you can go)
Rack are fixed to frame and have potential to break during rough conditions
BEST FOR:
Hardtail MTB's are great for single track routes but also excel at more moderate routes like the Tour Divide (ridden fully rigid). There's no reason you can't ride a Hardtail on rough single track, even though a Full Suspension would be more comfortable.
When talking about Hardtails, one must mention Plus Size and Fat Bikes as well. Both have their place in the Bikepacking world. Plus size bikes and Fat Bikes both offer a softer ride through their larger tires. Those larger tires also add floatation in soft sand or snow. These bikes are great for Expedition style rides.
Of course other factors will determine which bike you use in which situation as you'll see discussed below.
PROS –
Lighter
More storage over a Full Suspension (main triangle)
More bottle cage mounts
CONS –
Less comfort compared to a Full Suspension
BEST FOR:
Full Suspension MTB's are great for rough singletrack or routes with lots of descending. They offer more comfort which should mean you'll be fresher at the end of the day, but they're usually heavier so there is a trade off.
Full Suspension bikes mean limitations for bags and mounting bottles or other gear but many riders like the plush ride over a Hardtail so they don't mind the limitations.
PROS –
More comfortable than a Hardtail or Drop Bar
CONS –
Heavier
Less storage (main triangle)
Less water bottle cage mounts
More moving parts that could fail
BEST FOR:
Drop Bar MTBs are especially good for dirt roads and jeep tracks but they can also be used on single track if one chooses. The more aggressive position means better aerodynamics but on steep descents means more pressure on the hands leading to fatigue.
Like Hardtails they have great carrying capacity and their multiple hand positions offer options for avoiding numbness in the hands.
PROS –
Best storage capacity
Great efficiency (Larger wheel size)
Multiple hand positions
CONS –
Not as comfortable on rough single track
As an affiliate partner, One of Seven Project earns a commission for purchases made through any product, brand logo links, or banner ads on this page. Thanks for your support!
Typical Gear Needed to Bikepack
Examples of my Gear Lists
MY PROVEN GEAR LISTS FROM THE TRIPLE CROWN
Gear lists from the AZT, CTR, and TD; Pros & Cons; Things I'd do different; and Tips.
In depth look at what I would bring for gear and why, if I rode the AZT, CTR, Kokopelli Trail, and Tour Divide.
A lot of people think that one needs a ton of specific gear to go bikepacking. The reality is you don't. On a S24O you need very little, longer trips require the ability to carry a little more to deal with various condition one might face.
Below we'll show you all the types of bags specifically made for bikepacking, but as stated above you can get by with simply strapping items to your bike and a backpack until you can get specific gear.
#1  SEAT BAGS
Personally a seat bag would be one of my first bags I would buy. Bikepacking seat bags are basically oversized standard seat bags, that one might carry a tube and tools in. Like most things in life, there are different styles of seat bags. The best ones are waterproof and some even have removable bags for easily packing/repacking of gear away from the bike.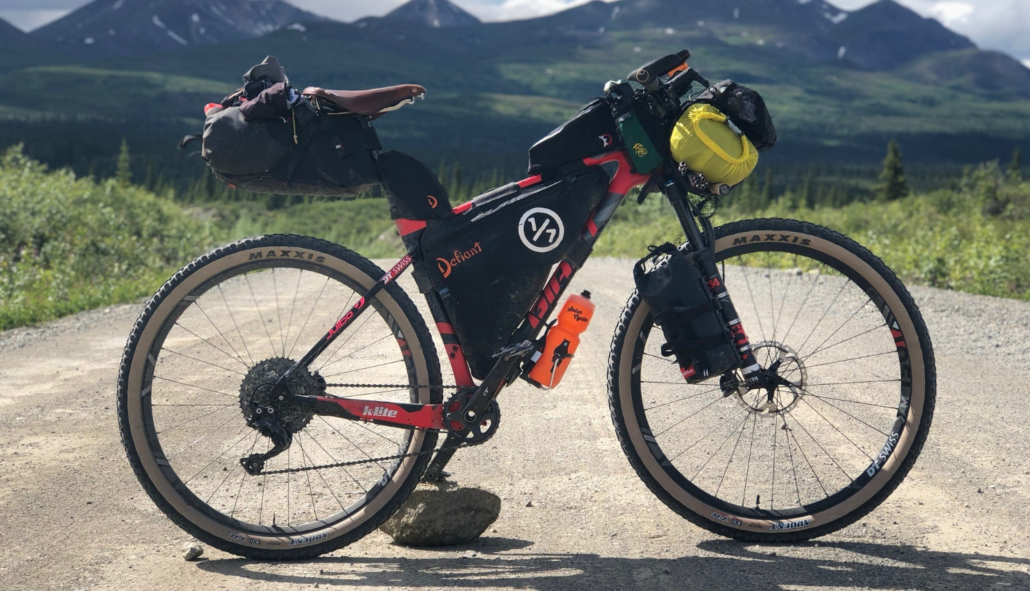 #2  FRAME BAGS
Most frame bags are usually custom and can be costly. There is usually a wait time from most manufacturers so plan ahead when ordering one. With so many frame styles, shapes and size it's impossible for one bag to fit multiple bikes. Expect to pay $150 or more for one.
#3  Handle Bar Roll/Sing
Some time called a Handle Bar Roll or Sling, this bag attaches to your handle bar and hangs below and in front of the bar. They are usually offered in multiple sizes or they are just a harness that one can use whatever stuff sack they choose in.
Be aware that when your front fork compressing under braking or hitting bumps, there's a change your bag could rub the front tire. This is something you need to figure out in shakedown ride.
#4  Gas Tank
A Gas Tank goes on the top tube of your bicycle behind the stem. They are usually small and easy to access. Most people for their days snacks in here or other items you plan on getting at multiple times throughout the day.
#5  Jerry Can
A Jerry Can also goes on the top tube but it butts up against your seat post. They're typically smaller than a Gas Tank. They are great for tools and other items you might want easy access to.
#6-8  Other Bags
There are various other bags available for bikepacking. They include fork mounted, down tube (tool or tube pouches), feed bags, handle bar, and of course you can use a hydration pack too.
Fork mounted bags are just small stuff sacks that mount to your forks. Salsa and other companies makes special bottle cages to hold these bags, fuel bottles or whatever else you can fit on the cages.
Not as common are Down Tube bags. People with full suspension bikes somethings use these to make up for the lack of front triangle space. They're usually low profile and narrow, more of a roll than a bag. These are great for storing tools to keep the weight low on your bike.
Feed Bags go behind your handle bar next to the step. Like Gas Tanks they're great for items you want easy access to. Bottles, cameral snacks or ever a jacket.
Some companies sell additional smaller bags that attach to your Handle Bar Roll/Sling. Like Gas Tanks and Feed Bags, these auxiliary handle bar bags are great for easy access, and they're typically easy to remove which means take your valuables with you when you leave your bike.
If you're looking for more detail into the gear and supplies you want to bring with you, and suggestions on which bag each item should go in, checkout my gear page. Like planning for any adventure, the key is to bring only what you need.
Through research and more importantly, trial and error learn what you need to be safe and comfortable. During this process you'll also figure out how you want to pack your own bike. Just like with hiking, heavier items should be stored lower to keep the loads center of gravity down.
REPAIR AND FIRST AID
Having a quality repair and first aid kit are an essential part of your bikepacking gear set up. With that said I'm not going to tell you what to bring with you. If you have read any of my guides or resources you already know or will find out that I firmly believe that learning things like this for yourself is key.
With that said, it's my belief that if I don't know how to use a certain tool, how to repair something or have the medical skills to do something that I'm not going to carry that item. This is my view point, it's up to you to carry the items that you feel are important and make you feel confident.
Below you'll find both repair and first aid kits lists that give you a wide range of items that one might want to carry when going into the backcountry. If you're curious what I carry for a repair kit you can watch my Repair Kit Video.
SLEEP SYSTEM
Just like with hiking, bikepacking is not much different when it comes to sleep systems. You can go as minimal or as lavash as you like. It all comes done to personal preference.
At the end of the day, you want a system that you're personally comfortable with and works for you. If that means something as basic as a foam pad and a bivy sack then go for it. For some it might be a tent like Big Agnes's bikepacking specific tents and a plush 3″ air mattress.
Besides personal preference, you should consider the follow when selecting a sleep system: weight, packed size, durability, and ease of set up. Personally I find bikepacking to be much harder than hiking and the result is I'm much more tired at camp. The last thing I want to do is set up a labor intensive shelter.
CLOTHES
The clothes one takes bikepacking are not much different from a normal ride. Because you'll be spending more than a few hours outside and will be camping, one needs to be prepared for all possible weather conditions. If you're not racing and have both the space and don't mind the extra weight, camp clothes are always nice to have.
A few items I found to be key to staying comfortable on and off the bike are: beanie, buff, puffy, waterproof and or windproof gloves, shoe covers, extra socks. For examples of what to carry, take a look at my Bikepacking Triple Crown gearlists.
Make sure however you pack your clothes that you invest in good dry sacks to keep them from getting wet.
How to Stay Dry When Bikepacking
Throwing out of bounds sucks!
(men's and women's available).
Celebrate your thru-hiking class with the Class of ___ T-shirt!
(men's and women's & nobo and sobo available).
It's June. Ride, Eat, Sleep, Repeat Arizona Trail Race.
(men's and women's available).
Checkout all our available products in our store, and thanks for the support!
Support the Project
Simply clicking on the links below with our affiliates supports the Project.
Or checkout our Deals page to save big!
As an affiliate partner, One of Seven Project earns a commission for purchases made through any product, brand logo links, or banner ads on this page. Thanks for your support!