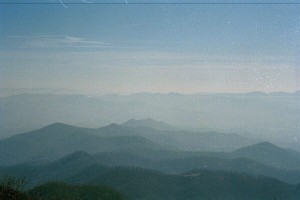 Appalachian Trail Day 11
03-10-01  Day 11  –  7:45 PM
16.4 miles, 108.9 AT miles
Betty Creek – Siler Bald
Sunny 20º AM / 38º PM
Today was too much!  The plan was for 13 miles but the campsite sucked and was too close to the road.  I should have stayed at Rock Gap with the college kids.  There were a couple of cuties there.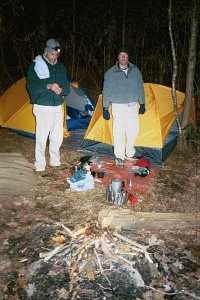 I think I passed Jessie and Bris.  I will make a late start tomorrow.
We're on top of a Bald. So it's going to be cold tonight.  I'm with Mr. Pat again and Shamus.  The sunset was great.
The hike in general was good until the last 3 miles. I was hurting.  It didn't help I had ten pounds of water on me.
I heard a Barred Owl last night and tonight.  Twice now I have gotten callbacks.  I also saw two red squirrels and one chipmunk.
The fire tower on Albert Mountain was great.  The views up here are just as well.  We're at 4,700-4,900 feet.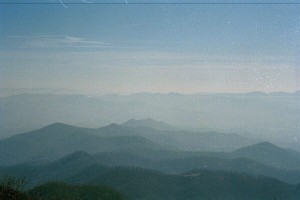 Steve and Skipper went home today.  They were the coolest guys yet.  They gave us a ton of food and left us with tons of great memories.  They're the reason why I'm out here, to meet people like them.
Scatman 2011:  This is the place where I got my trail name "Scatman" from Shamus.
———-
Scatman
Get out there!
https://oneofsevenproject.com/wp-content/uploads/2019/01/DX-24-300x200.jpg
200
300
Craig Fowler
http://oneofsevenproject.com/wp-content/uploads/2017/01/1of7-logo-lockup-grey-1132x212-300x56.png
Craig Fowler
2001-03-10 09:00:22
2019-01-24 21:41:42
Appalachian Trail Day 11 - Betty Creek to Siler Bald