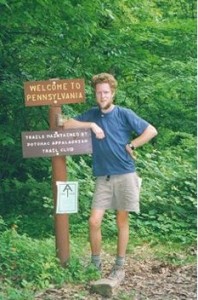 Appalachian Trail Day 80
Day 80, 05-18-01
Pine Knob – Quarry Gap Shelter
15.8  miles, AT  –  1065  1,455 feet
7:50 AM 6:30 PM    60-70°
I woke up late today, 6:30!!  Then I didn't get on the trail until 10 of 8.  I took my time for most of the morning.  Around 11 AM I saw two deer (54), then Tangent showed up on a tear.  She was moving so she could get into South Mountain post office.  I went with her and we hit a convenience store.  In back they had a cool little sit down area and stools in the front.  It was all done in a 50's style.  They had all these old signs.  Really cool place.  I had a burger, fries, milkshake, and a Coke.  I had a bit of trouble with the last quarter of the Coke.
We got a ride back to the trail, where I called Jimmy.  The PA Dutchmen he hiked with last year were going to have a party around June 10th, so I wanted their number.  I didn't get the number, but I did secure a place with him on a team for an adventure race in September.
At Caledonia State Park, we ran into Squiggy who was taking a day off.  He was waiting for his ride.  I was falling asleep at the picnic table.  I made good time to the shelter.  Im really tired so I cooked fast and now its time to read and sleep.
Scatman 2011- Let's see, I recall the diner and the PA Dutchman but nothing else.  Sorry Squiggy.  I do recall calling my friend Jimmy.  Maybe that is about the time I saw Squiggy.  I think I was in a field near a road.  It's amazing the things I do and don't recall from the trip.  The human mind is as amazing as it is perplexing.
———-
Scatman
Get out there!
Powered by adventure, fueled by Feed the Machine, Hydrated by nuun, and built for life like Stanl
https://oneofsevenproject.com/wp-content/uploads/2019/01/18-08-e1305513786168-198x300.jpg
300
198
Craig Fowler
http://oneofsevenproject.com/wp-content/uploads/2017/01/1of7-logo-lockup-grey-1132x212-300x56.png
Craig Fowler
2001-05-18 09:00:02
2019-01-22 11:21:18
Appalachian Trail Day 80 - Pine Knob - Quarry Gap Shelter