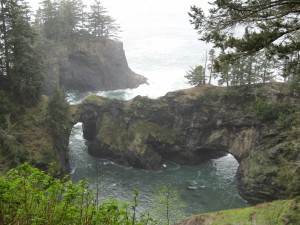 PCT 2007 Day 12
Stage 12 / 4-6-07
Port Orford – Harris Beach SP
57.7 miles; 625.66 total miles; 11.2 mph avg.; 5:07 hours
Foggy and low 50's; sun broke around 12
Before I forget I wanted to take a moment to thank all of you who have donated to my trip. I can't thank you enough. I would also like to note my sponsors for this trip: Nuun Hydration, Ibex Wear, Zeek's Pizza of Kirkland, Feetures Socks, and Superfeet Insoles.
Last night the fog came in and stayed. The moisture was so thick it collected on the tree above me and fell like rain. So even though it didn't rain, it might as well have. My tent was all wet.
I didn't cook breakfast since there was a restaurant on 101 on the way out. I had pancakes, toast, cranberry juice and sausage. I'm not sure if it was the miles, sun and sunburn I got from yesterday or the big breakfast; but I was super slow to get going this morning. My legs felt died. It didn't help the fog made for a gloomy day. It was pretty to view the sea stacks and surf through it though.
My day was mostly on 101 except for one section outside Gold Beach where I road on old 101 closer to the coast. Not much happened from Port Orford to Gold Beach. It was after Gold Beach that I had a cat. 1 climb and then the views began. The first view was on the downhill from the cat. 1 climbed just past Cape San Sebastian. From that point on there was view after view. I stopped and checked out the Natural Bridges Cove and Arch Rock. At Natural Bridges I locked the bike up and hiked down a trail to get a closer look. It was tricky but well worth the hike down.
I met a couple at Arch Rock while eating lunch, then saw them again at Natural Bridges and yet again in the campground where they gave me a box of wood for a fire (which has given me my best fire yet) No trying to get wet wood collected off the ground to burn. Thank you, whoever you were!
I met a guy who pulled in the camp next to me who told me there was laundry here so now I'm cleaned, showered and have on clean clothes. He was living out of his van I believe because he told me it wasn't his spot; he was just using the shower.
I also met Steve and Roberta who are from Ashland, OR. Roberta was admiring my tent so I invited them over to check it out. They got to talking about my trip and then gave me their phone and address and said I could call when I got to Ashland. I gave them my card in return. They are bike touring but they are not the engine. (Craig is the engine for his bicycle. Steve and Roberta have a motorized bike.)
Up to this point to cushion my butt after riding all day I have been folding the last quarter of my Thermarest over to double it up. It feels so nice but that only fixes the butt issue and does nothing for the tired back. Tonight I realized I could make my fold but instead of just laying the Thermarest flat along the bench I could face away from the picnic table and the half of the Thermarest I don't use sticks up to cushion my back from the table edge. I'm even using the box of wood for a foot rest.
Since my inbox hasn't seen too much action I'm going to ask a question to see who can get it right. The question is: What has been the most common thing I've seen on the road's edge? (Hint: you use it while landscaping and it comes from something the NW has a lot of).
Glove count is 19.
Scatman 2011- It's amazing how the days can start so slow and gloomy and then by the end you've had an incredible experience.  Today was just another example of this.  I saw so many amazing sites.  I would love to ride the coast on a motorcycle so I could have more time to explore the waters edge.  Maybe I'll have to add that to the Bucket List.

At the Natural Bridges Cove I hiked down as I said and you could if you wanted to take the risk walk around the arch in the picture for this post on the main page.  I started to and then looked at the water and realized if I feel in I would have know way out.  None!  I mentally slapped myself and hiked back to the bike.  I have no idea what I was thinking.
Scatman
Get out there!
You can check out my Appalachian Trail or Continental Divide Trail journals too!
https://oneofsevenproject.com/wp-content/uploads/2019/01/IMG_1778-300x225.jpg
225
300
Craig Fowler
http://oneofsevenproject.com/wp-content/uploads/2017/01/1of7-logo-lockup-grey-1132x212-300x56.png
Craig Fowler
2007-04-06 13:14:55
2020-03-16 20:28:30
PCT 2007 Day 12 - Port Orford - Harris Beach SP