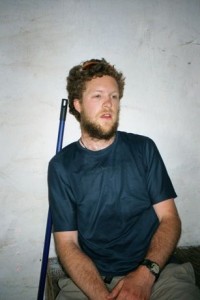 Appalachian Trail Day 46
Day 46  04-14-01
20.6 miles, AT  – 553.7  4,410 feet
Davis Path  – Chestnut Knob Shelter
8:10 AM 5:40 PM, 80°
Last night at least two of the ladies snored and loudly.  I had to get my ear plugs out.  We hit the trail around 8:10 AM and got done at 5:40 PM.
Today was a super hard day.  It doesn't help all I have is Ramen and other junk from the truck stop I bought at.  There were a lot of climbs but some real nice pasture walking.  Right now Im on top of a grassy knob.  We walked through about two miles on fields on the way up here.  In front of me I have a beautiful view of the farm land below.  My feet hurt as usual today.  I saw a bull frog, snake, groundhog, and I just saw three turkeys.
Tomorrow we are only doing 15 miles and we're camping too.  I think Virginia has proved to be very nice so far.  I love looking down on the valleys with the farms.  I was really hating life coming up here but the view is worth it.  I believe this to be our last 4,000 footer until New England.
Tonight I'm with Stubster, Bandit, Smokie, Coozers and Agatha.
Scatman 2011- I had lunch the day before on the way out of town at a Dairy Queen.  What a terrible meal.  That night was worse.  I thought I had hit the lottery, three ladies and me in the shelter.  Two of the three ladies snored so badly.  It was unbelievable.  I was happy to be with a new crew this night.

I still can't believe how bad Stubster's feet were.  His blisters were terrible.
———-
Scatman
Get out there!
https://oneofsevenproject.com/wp-content/uploads/2019/01/12-07-200x300.jpg
300
200
Craig Fowler
http://oneofsevenproject.com/wp-content/uploads/2017/01/1of7-logo-lockup-grey-1132x212-300x56.png
Craig Fowler
2001-04-14 09:00:45
2019-01-24 16:58:14
Appalachian Trail Day 46 - Davis Path - Chestnut Knob Shelter