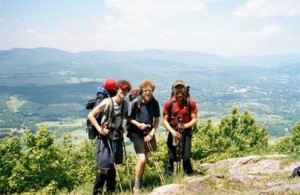 Appalachian Trail Day 111
Day 111, 06-18-01
Mark Noepel – Seth Warner Shelter
16.5 miles, AT  –  1580.5  -2180 Feet
Porkie didn't show up last night.  I'm greatly saddened by this.  I really wanted to see him.  I also left a bunch of quills I picked up.
I left camp and did trail work consisting of clearing water runoff as I went.  We all hung out at the top of Greylock.  Such a nice view up there.  It was clouded in when we arrived, but cleared up soon after.  We called a thru-hiker (Moto), who lived in North Adams and he was home.  He picked us up and drove us around.  He got us pizza from his dads store and let us use his pool.
Arlo and BA decided to stay with Moto.  I'm now in Vermont, back to the true New England, so the Captain says.  It's nice to see and hike a section of the LT/AT besides Killington.  I've done Killington 5 times.  We made great time up the 2000 foot climb to get here.  On the way up we passed a husband and wife who were back tracking because the son and daughter weren't at the shelter like they though they would be.  The seemed really worried.  Theres a lot of people here.  A lot are hiking the Long Trail.
Its late so I must hit the hay.
Scatman 2011- I can't believe we covered the ground we did today with the two big stops we had at Graylock and Moto's house.  As it always would, it sadden me when part of the troop stayed behind.  I think this was because you knew deep down inside even though they planned on catching up they might not.  This group was close and even though I was the newest member, I already felt close to them.  Maybe it was the common goal of thru-hiking or maybe just that they were good people.
———-
Scatman
Get out there!
https://oneofsevenproject.com/wp-content/uploads/2019/01/24-01-e1308280833760-300x195.jpg
195
300
Craig Fowler
http://oneofsevenproject.com/wp-content/uploads/2017/01/1of7-logo-lockup-grey-1132x212-300x56.png
Craig Fowler
2001-06-18 09:00:57
2019-01-20 12:06:58
Appalachian Trail Day 111 - Mark Noepel - Seth Warner Shelter