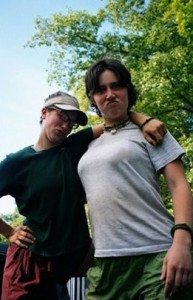 Appalachian Trail Day 112
Day 112, 06-19-01
21.6 miles, AT  –  1602.1  -3540 Feet
Seth Warner – Goddard Shelter
Got up late today.  I slept well though.  Vermont (southern) has proved to be as nice as central VT.  Lots of beech trees and muddy spots.
We read that Shera saw a moose at one of the many beaver ponds we passed today.  The descent to Rt. 9 was tough on the knees.  The ascent back out was tough too.
I had a late lunch and I must have ate too much.  My stomach hurt a lot during the 8.5 to camp.  8.5 was long as hell since I had no watch to judge time and speed.  The view at the shelter is great.  But the black flies were terrible.  I mean the worst I've every seen.  I'm so happy that I got a head net in CT.  They made eating almost impossible.
I saw a snake today and lots of toads.  Toads have been all over the trail for days now.
The trail is great; I love VT.  Tomorrow we have a view just .3 of a mile down the trail.  Theres a fire tower on top of this mountain.
Scatman 2011- What I remember most about this day is both Burn and I having the same idea about the "Life is Good" hat we found at the shelter after Seth Warner.  She grabbed it before me but later she would give it to me.  To this day the patch is still on my shorts.  I removed it from the hat and sewed it on my shorts.  The other thing I recall was the climb.  It hurt more than usual, probably from having such a late lunch.
———-
Scatman
Get out there!
https://oneofsevenproject.com/wp-content/uploads/2019/01/24-04-e1308539086998-193x300.jpg
300
193
Craig Fowler
http://oneofsevenproject.com/wp-content/uploads/2017/01/1of7-logo-lockup-grey-1132x212-300x56.png
Craig Fowler
2001-06-19 20:06:23
2019-01-20 11:23:39
Appalachian Trail Day 112 - Seth Warner - Goddard Shelter