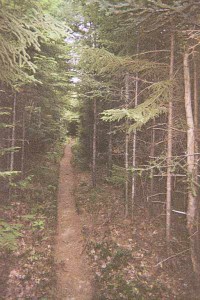 Appalachian Trail Day 145
Day 145, 07-22-01
Bald Mtn. – Monson Pie Ladies
18.7 miles, AT  – 2050.3
I woke up to these two people from Holland banging and throwing pots around.  I was pissed.  They were so noisy.  I did the worst packing job of my pack in a while.  I kept forgetting stuff.
I didn't or couldn't see Katahdin from the top of Moxie Bald.  The air quality wasn't so good.  Too Humid.  Later down the trail, I forged my first river.  I had lunch at Horse Show Lean-to.  While forging the East branch of some river, I got tons of baby leeches and one huge one on my right foot.  I screamed like a baby.  They were sick.  I had the willies for 20 miles.  Jeff just laughed.
The rest of the hike was easy except for lots of PUDS and mosquitoes.  They kept biting my elbows.  They know you can't see them.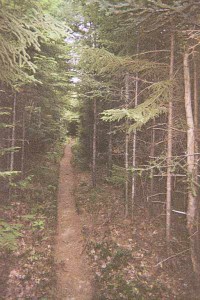 Once at the pie ladies, (I learned why some don't like her.  She is rough around the edges and tells it as it is).  Jeff and I got a little cabin out back.  We had pizza and fries at a gas station down the street.  After all the kids were in our cabin.  They were so drunk.  A little too drunk for my liking after such a tough day.  I kicked them out after the X-files.  I had too much Coke and the beds were so bad, I had a tough time sleeping.
Tomorrow it's off to the 100 mile wilderness.  Eight days to go!
Scatman 2011- Once again the heat/humidity was barely tolerable.  I can't tell you how much I sweat during these days.  I could ring my shirt out it was so bad.  This day was mostly woods hiking so it didn't help with offering much in the way of views or a breeze.

The leach incident was just gross.  These baby leaches were the size of #2 pencil lead and there was dozens of them between each one of my toes.  As I spread each toe to see if there were any there I scream louder when I saw them.  Then I turned my foot over and there was mom, big black and suctioned onto my foot. Once I had them all off I freaked out because I had flicked mom near Jeff and he flicked her back.  I was sure she was on my pack.  I had saddles with hundreds of nubs on them and the baby leaches were all down in between.  I had to take a trash bag out of my pack and wrap them up.  I wasn't going to have those little bastards any where near me.  I just hung the bag on my pack and walked.  Every once in a while I would just shiver as I got the willies thinking about what had just happened.
———-
Scatman
Get out there!
https://oneofsevenproject.com/wp-content/uploads/2019/01/214-200x300.jpg
300
200
Craig Fowler
http://oneofsevenproject.com/wp-content/uploads/2017/01/1of7-logo-lockup-grey-1132x212-300x56.png
Craig Fowler
2001-07-22 09:00:50
2019-11-29 22:10:39
Appalachian Trail Day 145 - Bald Mtn. - Monson "Pie Ladies"