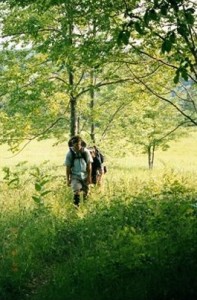 Appalachian Trail Day 122
Day 122, 06-29-01
Hanover – Moose Mtn. Shelter
10.8 miles, AT  –  1737.0
Got up around 9 AM. It started to sprinkle so everyone threw their shit inside. We are at Louies again. I packed and checked e-mail one more time. I got lunch on the way back to the house.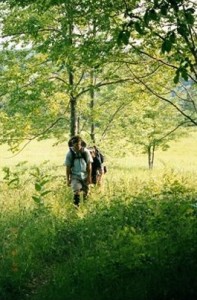 It was getting time to go. We had taken over Speedy's friend Laurens house long enough. Lauren and her roommates were so nice. I really appreciated their kindness.
I got about a mile from the house and realized I forgot my camera. As I walked back, I ran into Hatman and Happy Feet.  Surefoot was there too but he ran off to talked with Glider.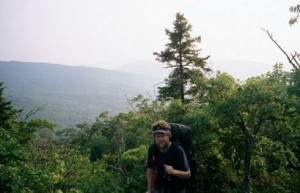 Knatty, Happy Feet, Hatman and I went to Ben & Jerrys for the free hiker special.  The White Blaze.  It was really good.  Knatty and I hiked together and talked about past loves and what went wrong or what we thought did.  We caught B/A and Burn. Later we all sat on the edge of a field and saw a deer (74).  The rest of the hike was fine.  A small shelter tonight.
The Dartmouth kids on summer trips showed up late. They put up tarps up next to the shelter.  They just made jello.
A late night catch up on the journal.
Scatman 2011- Forgetting my camera was the best thing I did all day. It was today that I really bonded with Captain Knatty.  We talked and listen to each other for hours while we hiked. It was good for the soul and mind. Captain is a good listener and now a good friend after all these years. You can follow him on Twitter at @sorepheet

It was also nice to see Hatman and Happy Feet again. Like the Captain they are good people and I enjoyed sharing ice cream with them.
———-
Scatman
Get out there!
https://oneofsevenproject.com/wp-content/uploads/2019/01/28-06-e1309024788402-197x300.jpg
300
197
Craig Fowler
http://oneofsevenproject.com/wp-content/uploads/2017/01/1of7-logo-lockup-grey-1132x212-300x56.png
Craig Fowler
2001-06-29 09:00:33
2019-01-19 15:33:49
Appalachian Trail Day 122 - Hanover - Moose Mtn. Shelter