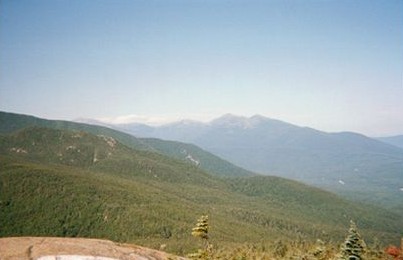 Appalachian Trail Day 132
Day 132, 07-09-01
Madison – Imp Shelter
20.9 miles, AT  – 1862.2
Day of Rain 27
I woke up to the sound of dishes banging.  Since I was on a table, I had to get up.  We all helped again with setting the table, serving food and clean up.  Mom would be proud how fast we cleaned up for 50 people.  It was about 8:30-9 AM when I finally left the hut.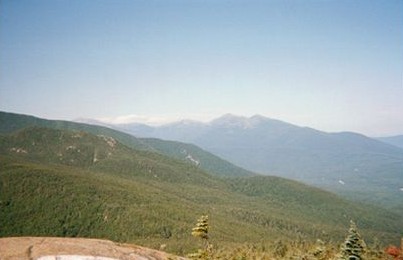 The hike down Osgood was as bad as I remembered.  Once down to the tent sites, I got a little turned around.  The trail was hard to follow.  I made my way on memory from two years before.  I must of passed 30 streams on my way through the Great Gulf Wilderness.
When I got to Pickham Notch Visitor Center, I found BA, Crash, Burn, Knatty, and Burns friend, Brett.  We all ate there for $6.50 all you can eat.  I had tons of pink lemonade and two ham sandwiches and cake.  I bought a Coke; for the hike.  All but Burn, Brett and I took the gondolas to the top of Wildcat.  Speedy and Arlo took a blue blaze down Madison, then yellow blazed (took a car) to Wildcat and went up the gondola.  I must say I felt like total shit on the way up Wildcat.  I haven't been that tired in a long time.  Burn and Brett passed me like I was a day hiker.  I would catch them twice but I was whimped.  Arlo and Speedy brought me a Pepsi and left it at the top of Wildcat.  I had that and a Snickers.  Well those two did the trick, because I took off.  I passed Burn and Brett and never saw them until camp.  I stopped at Carter Gap Hut.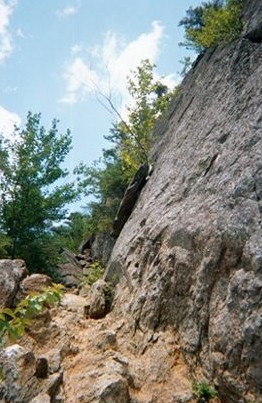 I lost some steam on the next climb, then the rain (heavy) and lightening came rolling in.  I was fearing my life for two reasons 1) wet rocks with steep downs and 2) lightening.  The hike down Middle Carter Mtn. was scary.  It took forever too.  I kept thinking I missed the shelter.  Then on some nasty sloped rock, I had my feet go right out from under me.  Luckily head and shoulder hit some moss.
When at camp, I found it full or almost.  Everyone was cooking and it was chaos.  I finally got my meal cooked.  I was so tired and wet, all I wanted to do was sleep.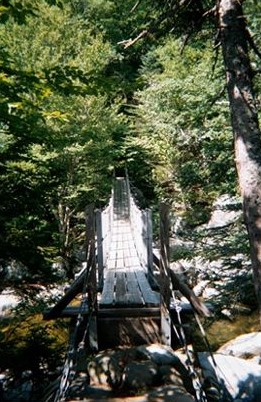 Getting to camp on nights like this are the worse stuff is hanging everywhere.  Everything is wet.  People are cooking all over.  Theres no space and things take forever to do.  It's not the scene you want to see after 21 miles.
Scatman 2011- This was a hard day but not the hardest.  There were many tests through out it and most hurt.  First the descent down Madison, then the climb up Wildcat and then the descent to the shelter in the pouring rain.  The Pepsi and Snickers was a life saver.  Though the rock I slipped on and hit my head could have been a life taker.  If it wasn't for my shoulder, pack and the moss on the rock I'm sure I would have been knocked out.  I hit hard!  Add the rain and I would have become hypothermic lying there.  The full shelter was just another straw on my back after a tough day.  I look back now and wonder how I didn't get sick of it and quit.
———-
Scatman
Get out there!
https://oneofsevenproject.com/wp-content/uploads/2019/01/30-10-e1310186259620.jpg
260
403
Craig Fowler
http://oneofsevenproject.com/wp-content/uploads/2017/01/1of7-logo-lockup-grey-1132x212-300x56.png
Craig Fowler
2001-07-09 09:00:00
2019-01-19 12:03:35
Appalachian Trail Day 132 - Madison Hut - Imp Shelter