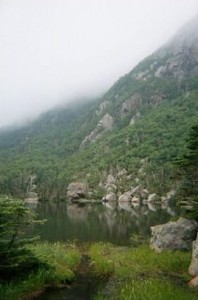 Appalachian Trail Day 134
Day 134, 07-11-01
Gorham – Carlo Col Shelter
17.0 miles, AT  – 1887.2
Day of Rain 28
No one wanted to get up today.  It was past 8 when I got up.  I packed up and headed to the PO.  No one else was even ready when I left.  It was raining again.  No one picked me up on the way to the PO.  I shipped my stuff and headed out of town.  As I passed the other hostel, I got a ride from the owner.  It rained most of the day.  I passed Vice before the first shelter.  Trailwind was at the shelter.  We talked some then around 5:30 PM I took off the next shelter.  Right out of the first shelter, a Sobo told me the shelter I was going to was full.  It took me forever to get to the state line.  Once there I just stopped and looked at the line.  I took a few shots of me and the sign and headed to camp.  There was a few nasty spots coming into camp.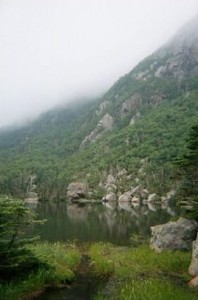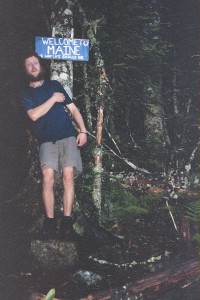 Camp was full but it had room.  The kids had yellow/blue blazed to get there.  It was another night of crowded sleeping and wet clothes.  I was crushed when I got there.  I was really happy to see the kids.  It was a long day in the rain by myself.  It would have been nice to cross the last state line with them.  They had screwed around in town and it was too lake to hike out on the AT. They ran into some of the Croo from Madison Hut in town.  They had lunch together.
Scatman 2011- I saw I was happy to see the kids but I have to be honest and say I swore at them when I found them at the shelter already.  I did not care there were a group of young boy scouts there.  I couldn't believe they were dry, happy, and not worn down from a long day of hiking in the rain like myself.  I felt like they cheated.  Though as most of them loved to say, "Hike your own Hike".  I actually hate the saying since I believe one can not "Hike their own Hike" when almost every day you are influenced by those you're hiking with.  But to use another old adage, "To each his own".

Some of the kids would later tell me they were so impressed at my determination, drive, and being so headstrong in my quest to be a "Purest".  A Purest is a hiking would doesn't skip a single piece of trail from Georgia to Maine.  They told me they would have given in a long time ago and respected my dedication. It was nice to hear them say all this.  It was nice to know someone appreciated and understood what it was I was doing and just how hard it was.
———-
Scatman
Get out there!
https://oneofsevenproject.com/wp-content/uploads/2019/01/30-12-e1310332643924-198x300.jpg
300
198
Craig Fowler
http://oneofsevenproject.com/wp-content/uploads/2017/01/1of7-logo-lockup-grey-1132x212-300x56.png
Craig Fowler
2001-07-11 09:00:52
2019-01-19 12:00:31
Appalachian Trail Day 134 - Gorham - Carlo Col Shelter