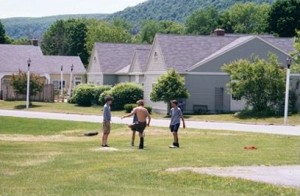 Appalachian Trail Day 102
Day 102, 06-09-01
Ten Mile River  – Kent, CT
8.5 miles, AT  –  1447.4
7:20 AM 11 AM
Wow, the river was loud last night.  We all got up late.  The hike was good on the way in.  It was really cool and by the end it was really hot.  Mukwa and Anduleia were being picked up by Anduleias parents.  They gave us a ride into town.  They gave everyone in camp a ride and there was about 10+ .  They made 3 trips.
We all hung out at the PO.  Everyone had a pint of Ben and Jerrys.  We played Hackie Sack again and enjoyed the sun.
Once at Tangent's house, we showered.  Bill (Hatman) made pizza dough, ate and I watched the Stanley Cup Finals.  It was very touching to see Ray Bourque raise the cup!  Twenty-two years in the making.  Between that and reading a very heart felt letter to Captain Knatty (from his girlfriend) in his book of wisdom, it was a very emotionally filled day.  I'm in my ninth state, in New England, and I'm heading out alone tomorrow.  Everyone else is taking another zero day.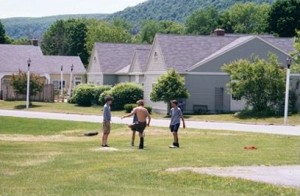 Jim Slavin is picking me up later.  We'll go see his parents and do some shopping too.
I saw two more snakes, one ribbon and one garter.  The bird count is up to 73.
Scatman 2011- When I look back now I think I should have left my little tribe sooner.  I hiked with them for a while and though I enjoyed my time there was tension there.  I think at that time we ignored it because, hey, it's the trail.

Not sure if it's been obvious or not but I ate a ton of ice cream on the hike.  Pints of Ben and Jerry's were nothing to use.  They were an appetizer.
———-
Scatman
Get out there!
https://oneofsevenproject.com/wp-content/uploads/2019/01/22-16-e1307599537356-300x196.jpg
196
300
Craig Fowler
http://oneofsevenproject.com/wp-content/uploads/2017/01/1of7-logo-lockup-grey-1132x212-300x56.png
Craig Fowler
2001-06-09 09:00:41
2019-01-20 12:23:40
Appalachian Trail Day 102 - Ten Mile River - Kent, CT