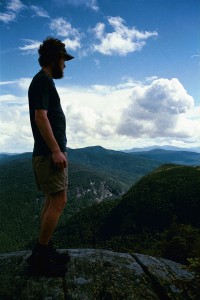 Appalachian Trail Day 135
Day 135, 07-12-01
Carlo Col – Baldplate Shelter
16.4 miles, AT  – 1903.6
Day of Rain 29
We got up late once again.  Everyone is really tired and we just want to sleep.  We all stopped at Full Goose Shelter for a snack at 11:20 AM.  We left around noon.  It wouldnt be until 5:30 PM that we got 5 miles to Speck Pond Shelter.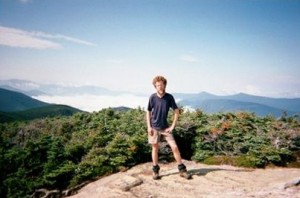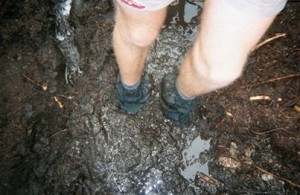 The Mahoosuc Notch was crazy.  It was a jungle gym of rocks and roots.  It took forever to go through the one mile.  We had to climb over and under house size rock (small houses).  I smashed my knee on a rock.  The funny part is that Captain and Speedy did the same think on the same rock right in front of me.  They even told me to watch out for the rock but I didn't know what they were talking about.  It was bleeding so I put the blood on my face like war paint.  It got a good laugh.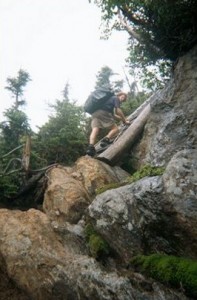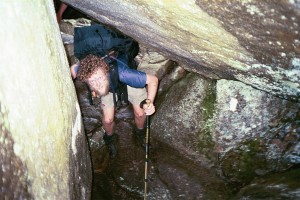 When we got to the Speck Pond, it was full too.  None of us realized it was so late.  I ate a quick lunch and Speedy and I took off to do 6.9 miles to the next camp.  We had to go over Old Speck Mtn.  On the way over Speedy's pack cover blew off.  He had to go into the woods to get it.  The wind was crazy.  The whole 6 miles was tough.  My knee was killing me.  Every step was painful.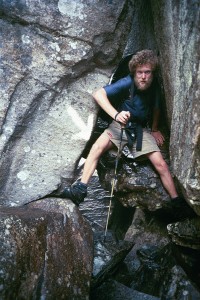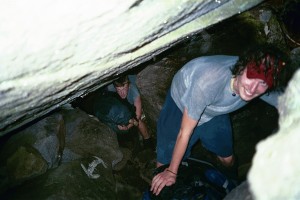 At Grafton Knotch two old guys pulled up in a car.  They were amazed that we were going up the mountain so late a night.  It was getting very late.  The guy driving said he was tired just talking to us.  When we said we came from GA he said thats it; you're making me tired; I have to go; take care.  I was laughing my ass off.  Earlier a SoBo was amazed that we were doing 7 miles after 5 PM.  It was like he thought it couldn't be done.
When I hit the uphill, I took off.  I finally got into the the zone.  The terrain has been so tough, it's hard to get into a rhythm.  I left poor Speedy behind.  I felt no pain for two miles.  I passed Brett and got to camp at it started to rain yet again.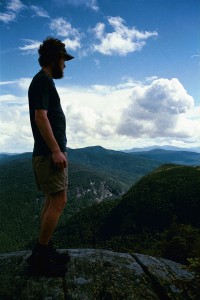 At camp, it was another full house.  I slept along peoples feet.  1/3 of my pad was hanging off the deck.  Brett and Speedy were on the floor (dirt).  My knee made sleeping tough.  I was afraid I was going to fall off the deck every time I moved.  Everyone was snoring too.
Scatman 2011- What a crazy day.  We started off slow and the trail was freshly cut so it was a like a peat bog.  Other areas we hiked had been older so the soil was worn away and just the granite rock was left.  This section was 8+ inches deep of thick soupy mud.  Mahoosuc Notch is only a mile long but it took us a long time.  Captain, Speedy and I were utterly shocked when we found out it was 5:30 pm when we really thought it was much much earlier.  I was quite bummed because I knew what it meant; no relaxing late lunch and many more miles to go before camp and a late dinner.  Old Speck was amazingly hard but equally beautiful.  The last picture above is one of my favorite from the whole trip.
———-
Scatman
Get out there!
https://oneofsevenproject.com/wp-content/uploads/2019/01/ROLL2DX-22-200x300.jpg
300
200
Craig Fowler
http://oneofsevenproject.com/wp-content/uploads/2017/01/1of7-logo-lockup-grey-1132x212-300x56.png
Craig Fowler
2001-07-12 09:00:57
2019-01-19 11:58:29
Appalachian Trail Day 135 - Carlo Col - Baldplate Shelter