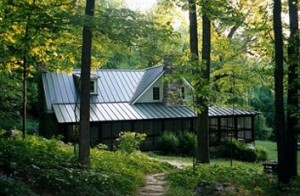 Appalachian Trail Day 75
Day 75, 05-13-01
Blackburn Center – Comfort Inn, Harpers Ferry
11.5 miles, AT  –  1002.2
7:15 AM 11:45 AM
Slept well and got up around 6 AM.  Al, Bill and Surefoot had cheesecake and cold cheeseburgers.  It made me sick.
I saw two deer (51) on the way up the hill from the Blackburn Shelter.  The hike into Harpers Ferry was easy.  With only 5 miles to go I put the afterburners on.  I got to town at 1:30 PM.  Bill said he held his ground for a while but couldn't keep pace.
Meeting Mom, Dad and Gram was great.  It was really nice to see them.  I showered and so did Surefoot when he arrived.  After everyone went to eat.  Anduleia, Mukwa, Surefoot, Bill, Al, Gram, Mom, Dad, and me.  We all pigged out.  Bill got picked up by his son Will and left for home.  I will miss his company on the trail.  Al went with Bill back to the Blackburn Center to be picked up by friends.  Surefoot and EZ Glider along with Anduleia and Mukwa stayed in my parents extra room.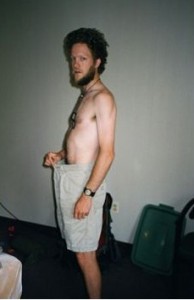 Anduleia and Mukwa left in the early AM and EZ Glider and Surefoot left later around lunch.
The night before we all went to another A.Y.C.E. buffet.  I really enjoyed the food but all the people and waiting is a pain.  After cooking for myself every day its a pain to have to wait.
Scatman 2011- I love the last line.  Now I hate to cook but it's more a lack of time than me not wanting to cook.  Example:  Tonight I didn't eat until 8:30 pm since that is when I got done with my bike ride.  Lucky for me I brought extra for lunch and had a snack before I left work.  I guess you can compare cooking on the trail with every day cooking.

On the trail I cook in one pot that is 1.3 liters I believe.  The meals on require about 5 minutes of boiling then I leave the pot covered for 5-10 minutes and it steep cooks.  Washing my dish on the trail consist of a little water, my finger and some times my spoon to scrap off anything that burned to the bottom.  Swish it around , burry in a hole or toss the water, dry and pack it back up.  No soap, no fuss, just quick and easy.
———-
Scatman
Get out there!
https://oneofsevenproject.com/wp-content/uploads/2019/01/17-09-e1305263663944-300x196.jpg
196
300
Craig Fowler
http://oneofsevenproject.com/wp-content/uploads/2017/01/1of7-logo-lockup-grey-1132x212-300x56.png
Craig Fowler
2001-05-13 09:00:40
2019-01-23 13:02:30
Appalachian Trail Day 75 - Blackburn Center - Harpers Ferry