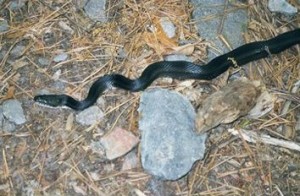 Appalachian Trail Day 74
Day 74 05-12-01
Rod Hollow → Blackburn Trail Center
18.8 miles, AT – 981.6
7:15 AM 3:35 PM, 60-85°
I slept well last night but woke up when Bill went to the bathroom. Plenty warm too. I could have gone without the silk liner.
Al and I hit the trail together. The Roller Coaster, as its called, wasnt too bad but it was very rocky. The Roller Coaster is a 17 mile section with 15-17 P.U.D.S.
We had snacks at a nice overlook. Surefoot caught up not too long after that. We also met a day hiker who was a member of the PATC Board who offered to slack us. Bill, Al, and Surefoot slacked from Rt. 7. Since I had a head start only Surefoot caught me. Then I caught him back up when he stopped.
We ate lunch at the Bears Den Hostel another PATC run establishment. It was a beautifully built stone house that looked like a castle. It had 6-7 foot high stone walls and beautiful grounds around it.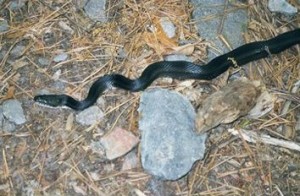 I saw a Black Snake who had recently ate something because his belly was all misshapen. No other wildlife to speak of.
Here at the hostel, I showered and relaxed. Surefoot challenged me to a game of chess, which I happened to win. I should have lost with the mistakes I made.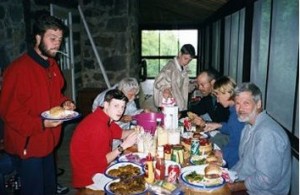 Bill's two sons showed up and we had a huge BBQ. Burgers, salad, chips, coleslaw, potato salad, and more. Vice, Vice's wife, Easyglider and Erin (girlfriend), Surefoot, Bill, Al, Bills two sons and myself were present. Easyglider and Erin headed back to the campground in H.F. and so did Vice. I sat around a huge fire the trail workers from PATC had (made) and now its time to turn in. Im full and tired.
Tomorrow I hit 1,000 miles.
Scatman 2011- The BBQ at the end of this day was the perfect finish to a great day of hiking. On top of that I went to bed knowing that I only had a few short miles to hike before meeting my parents in Harper Ferry. It would be the first time I saw them in over two months.
———-
Scatman
Get out there!
https://oneofsevenproject.com/wp-content/uploads/2019/01/17-06-e1305174818127-300x196.jpg
196
300
Craig Fowler
http://oneofsevenproject.com/wp-content/uploads/2017/01/1of7-logo-lockup-grey-1132x212-300x56.png
Craig Fowler
2001-05-12 09:00:40
2019-01-23 13:04:50
Appalachian Trail Day 74 - Rod Hollow - Blackburn Trail Center