Appalachian Trail Day 88
Day 88, 05-26-01
Port Clinton – Eckville Shelter
15.2 miles, AT  –  1212.6  535 Feet
Day 17 – Rain
It rained big time last night.  Another damp night.  Not tonight though, inside at a sweet shelter.  Four walls, windows, padded bunks, windows and soda.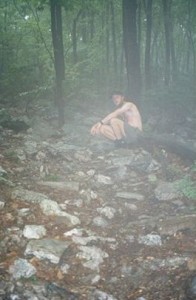 I got up at 7:40 AM!  I packed up with the intention of going to a diner for breakfast but never made it.  I went to the P.O. and then to the hotel/bar for lunch.  Hatman and Happyfeet went too.  We got so much food for so little.  I got a small fry and it was huge.  I mean out of this world huge.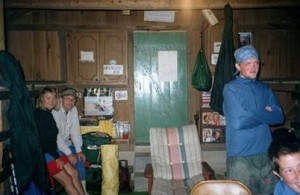 Al. Strider, The Finn, and Trailwind showed up before I left.  I left at 12 Noon for a 15 mile day.  Mukwa and Anduleia left before me and I caught them at the first shelter.  They then took a blue blaze and got ahead of me.  I then caught them again before the shelter.  I caught Speedy McPheely Too.  I passed Vice along the way and he never showed up at the shelter.
We have Speedy, Hatman, Happyfeet, Tangent, Anduleia, Mukwa, Mike (sobo), and a couple finishing a NoBo trip from last year.  A full house.  I had two Pepsis with dinner.  I'm dry and happy.  I got a cold shower to.  The shelter is a small hut behind a house.  Really nice place.  I hope my shorts dry.
I tried Hatman's philosophy of hiking, which is skin dries faster than clothes.  So I didn't wear a shirt; worked well until my back got chaffed.  I have a small raw spot now.
The hike was rocky.  I almost fell trying to eat and walk in the rocks at the same time.  Very rocky today.  My feet hurt yet again.  I massaged my feet tonight.  I hope it helps.  Theres supposed to be a few nasty spots tomorrow.  Plus we're doing something like 25 miles, the most yet.  Saw deer (56).
Scatman 2011- The guy who's house we were staying at worked for Pepsi, hence the free sodas.  I believe he also had candy bars for sale.  He converted his small garage into a bunk house.  It was lined with bunks, some chairs and a chalk board so hikers could leave messages.

Some of the kids I would hike with later stayed there before me and left the "word of the day" on the board.  The game was someone got to pick the word of the day.  When someone said it that person would say "OLAY!"  Eventually everyone would figure out the word and we'd all say "OLAY" whenever we heard it said.
———-
Scatman
Get out there!
https://oneofsevenproject.com/wp-content/uploads/2019/01/19-13-e1306383342959-300x198.jpg
198
300
Craig Fowler
http://oneofsevenproject.com/wp-content/uploads/2017/01/1of7-logo-lockup-grey-1132x212-300x56.png
Craig Fowler
2001-05-26 09:00:20
2019-01-22 11:00:37
Appalachian Trail Day 88 - Port Clinton - Eckville Shelter