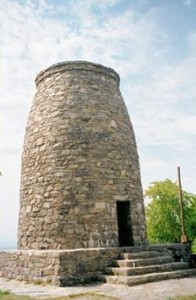 Appalachian Trail Day 78
Day 78, 05-16-01
Ed Garvey Shelter – Pine Knob Shelter
16.6  miles, AT  –  1027.0  1,360 Feet
7:45 AM 5:30 PM
We woke up around 6:30 AM.  Dad was up before me.  I slept in thinking he would sleep longer than me.  We ate and packed.  The hike down to Gathland State Park was really easy.  Once there, we noticed a terrible smell.  It smelled like they had sprayed fertilizer on the lawn.  It was bad!
While we talked to Mom, Gram, Anduleia and Mukwa, Waco, Strider, Sherpa (friend), The Finn, Trailwind, Tangent and Strider (RI) showed up and we all snacked on food from Mom and Dad.
I said my good-byes to everyone and hit the trail.  I caught Tangent and Waco.  White Rock Cliff had a nice view.  I soaked my head at Dahlgren Backpackers Camping area.  Its the only place on the trail run by the state with free showers (Hot).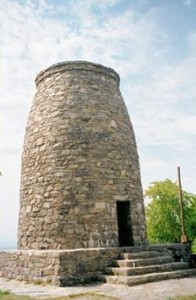 I stopped at Washington Monument State Park.  It's a monument built for George Washington built by the citizens of Boonsboro.  The view was great.  It looked like a giant milk bottle.
While cooking with my Coke can stove, I had an accident. After I was done cooking, I was trying to blow it out and all hell broke loose.  Blowing it out didn't work.  So Vice threw his pot lid on it.  When trying to remove it, he spilled the alcohol on the table, my KitKat, and my leg.  I lost some leg hair and the wrapper on the KitKat melted some.  My leg seems okay but its a little tight.  Finally Tangent put her pot over it.
Tonight it's a full house.  There are 13 hikers tonight.  Three are section hikers.
Saw one deer (52).
Scatman 2011- I had fun hiking with my dad but we both knew he would slow me down if he hiked longer.  Since I had left Al and Bill I was in limbo with no partner for the first time since I left Springer.  Little did I know I'd find not one but six.

It's funny.  When I burned my leg with my soda can stove I sworn I'd never use it again.  You really needs a stove that light anyway I thought.  Can't even put the damn thing out!  Now it's all I use and I've mastered how much fuel to use and there's not trying to blow it out.  How times change.
———-
Scatman
Get out there!
https://oneofsevenproject.com/wp-content/uploads/2019/01/18-04-e1305499519620-196x300.jpg
300
196
Craig Fowler
http://oneofsevenproject.com/wp-content/uploads/2017/01/1of7-logo-lockup-grey-1132x212-300x56.png
Craig Fowler
2001-05-16 09:00:57
2019-01-22 11:26:15
Appalachian Trail Day 78 - Ed Garvey Shelter - Pine Knob Shelter