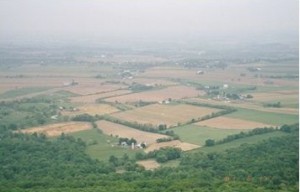 Appalachian Trail Day 79
Day 79  05-17-01
Pine Knob – Deer Lick Shelter
22.2  miles, AT  –  1049.2  1,420 feet
7:15 AM 3:45 PM
Last night Vice made a terrible racket, then someone fell while doing Lord knows what.  This made Tangent move over towards me.  So we started bumping each other.
I slept well.  My new bag is so sweet.  Thanks for the advice on the bag Bill.
The trail was really good in the beginning but plenty of other places with lots of rocks.  I passed lots of roads today.  I visited High Rock to see the view.  The view was great.  It looked over a vast farmland area.  There was a lot of glass and used fireworks.  After that we had a nasty rocky downhill.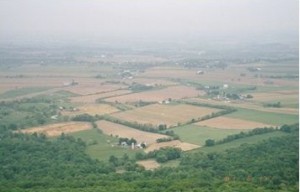 I met a few day hikers along the way.  One gave me Lifesavers and the other offered me a ginger ale since the soda machine at Pen Mark Park was broken.
We have 4 section hikers here and Josh, Tangent and myself are the only thru-hikers.  We have a nice fire going now.  The water was really far.
I was able to use the Coke can stove properly.  You have to leave the pot on the stove, then blow it out.  I did burn part of the rubber that covers the handle.
Scatman 2011- I remember being so bummed that the soda machine was not working at the park.  It was like you took candy away from a baby.  I was devastated. I guess if that was the worst I had happen to me life wasn't all that bad.  I could have burned my leg again or rolled an ankle.  The later of which I did a lot while on the AT.
———-
Scatman
Get out there!
https://oneofsevenproject.com/wp-content/uploads/2019/01/18-05-e1305499635868-300x192.jpg
192
300
Craig Fowler
http://oneofsevenproject.com/wp-content/uploads/2017/01/1of7-logo-lockup-grey-1132x212-300x56.png
Craig Fowler
2001-05-17 09:00:00
2019-01-22 11:23:06
Appalachian Trail Day 79 - Pine Knob - Deer Lick Shelter