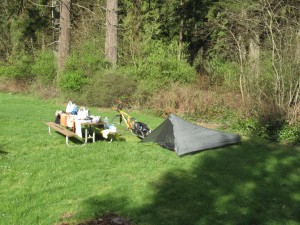 PCT 2007 Day 3
Day 3 / 3-28-07
Elma, Wa – Lewis & Clark State Park
56.54 miles; 148.9 total miles 12.5 mph avg 4:30 hours
55; Sunny with some clouds
Last night I didn't sleep as well as I thought I would. I kept waking up every few hours. I did feel pretty good in the AM. I got up at 7 AM. I had bought some milk at the gas station next door hoping I could keep it cold on ice in the ice bucket. The warm room spoiled that as it did my sleep. I had my cereal with warm milk which kinda blew. (On a good note, I just had a brain storm and blew up my therm-a-rest since my butt was hurting me on this picnic bench. So nice!)
It was in the mid to high 30's when I started at 8 AM. The route was nice and flat so I made good time. I saw a lot of farm animals along the route. I saw my first pigmy goats, they were in one of those dog houses that look like an igloo. There must have been four in it. All their little heads were looking out at me.
There wasn't much to see until I got to Centralia, where I had lunch, went to the bank and a store to get chain lube. That one night in the rain dried out my chain. While at the diner paying my bill, the waitress ask me where I was headed. When I told her, she quickly told me not to go that way. I already knew there were 3 hills but she also told me there was now a shoulder and it was rough. She gave me a better route which was flat and about the same distance. I learned a lesson, if there are hills leaving town on the route ask if there's an alternative.
Like yesterday I found that after mile 40 I begin to tighten up and every little incline I suffered on. I was blessed with a beautiful descent to the park through some old growth forest. It was the nicest view yet.
I'm staying in the RV section of the park since the campground doesn't open for a few days. It within sight of the road so I hope there isn't much traffic tonight.
I saw my first snake near camp tonight.
Scatman
Get out there!
You can check out my Appalachian Trail or Continental Divide Trail journals too!
https://oneofsevenproject.com/wp-content/uploads/2019/01/IMG_1420-300x225.jpg
225
300
Craig Fowler
http://oneofsevenproject.com/wp-content/uploads/2017/01/1of7-logo-lockup-grey-1132x212-300x56.png
Craig Fowler
2007-03-28 22:26:16
2019-01-29 20:55:51
PCT 2007 Day 3 - Elma, Wa - Lewis & Clark State Park