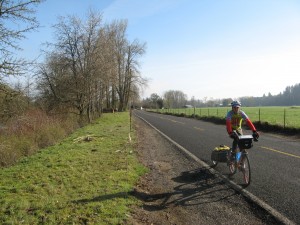 PCT 2007 Day 4
Day 4 / 3-29-07
Lewis & Clark State Park – County Line Park, WA
50.6 miles; 199.5 total miles; 13.1 mph avg. 4:50 +/-
Sunny and high 50's
Last night was COLD. I think part of the issue was I unknowingly shifted most of the down to the underside of the bag. My bag has continuous baffles so you can regulate the temp. I slept better than the first night. I tried out my new ultralite hiking pillow. It wasn't bad; but since it's air filled, it has a tendency to squirt out from under your head if you get too close to one side.
Getting up was hard since it was so cold. My rack bag had frost on it. Cooking was frigid to say the least.
The ride itself was the easiest yet with only a few small hills. There was a lot of small shoulder roads though. I started with fog and once the sun broke out the clothes came off one by one. I ended up in shorts and a short sleeve top. I believe I got some sun, even with my lotion on.
I got some pizza in Lexington, WA at this little "pizza pub" on route 411 just outside Kelso, WA. It was great! When I told the guy working there I should have gotten the medium size, he offered me some sample pizza of a new crust he was trying. He proceeded to give me 4 more slices, doubling my total. I was so grateful. When I left, I made a point to get his name and thank him. I had two slices there and two as part of dinner.
I'm staying on a small beach on the Columbia River in County Line Park. It's nice but the road is equal distance opposite the water.
I saw more goats and other farms animals. I also saw some Wood Ducks (m/f), a Great Blue Heron and I think some Lesser Scaup (probably a ring neck duck).
The nice weather is supposed to end tomorrow; but I'm keeping my fingers crossed.
I almost forgot, I got my first flat today leaving Longview/Kelso. The bike path was the sidewalk which was never cleaned from the looks of it. I had a staple and small piece of glass in the rear tire. Bummer! Off to mingle with the other campers.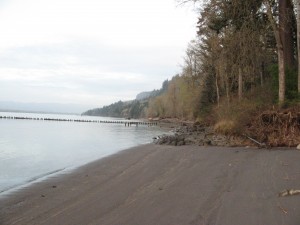 Other Birds: Rock Dove; Red-winged Blackbird; Spotted Towhee.
Critters: Rabbit
Scatman
Get out there!
You can check out my Appalachian Trail or Continental Divide Trail journals too!
https://oneofsevenproject.com/wp-content/uploads/2019/01/IMG_1428-300x225.jpg
225
300
Craig Fowler
http://oneofsevenproject.com/wp-content/uploads/2017/01/1of7-logo-lockup-grey-1132x212-300x56.png
Craig Fowler
2007-03-29 22:28:30
2019-01-29 20:56:05
PCT 2007 Day 4 - Lewis & Clark State Park - County Line Park, WA