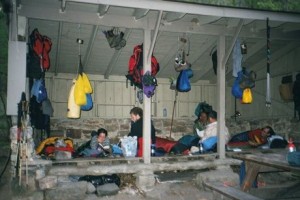 Appalachian Trail Day 57
Day 57,  04-25-01
9.4 miles, AT  –  709.3
Lamberts Meadow – Daleville (Best Western)
7:23 AM 10:40 AM
Last night, before bed, six (6) deer past within sight of the shelter.  The rat was not seen by any of us.  Al snored like a champ, but I slept 10 times better than the other night.
We broke camp early since Al is around and early in the day we saw another deer (22).  The hike into town was fairly easy.  Just a bunch of PUDS.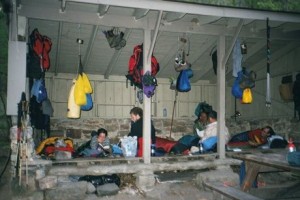 Once in town we (Al, Bill, Agatha and I) got a room at the Best Western.  Lunch was Pizza Hut.  After lunch, we waited around for this guy, Dalewood, to drive us to the Troutville PO.  He was late but it beat walking.  All my stuff was there except James said I should have received a package from him.
Dalewood was to come back later in the afternoon to take Al and I to the Outfitter.  He showed up around 6:30 PM.  While waiting we all showered and planned our next section.
At the Outfitter, I was able to get the next size shoe of the one I had.  Different color but such a better fit.  To think my feet have swollen a ½ size.  I also got a few other things and did a quick check of the three birds I couldn't identify.  Im up to 43 different birds.
Once back to the room, Dalewood and us went to the Western Sizzler.  I had a 9 oz. steak plus a trip to the salad bar.  The salad was so good.  I also ate three (3) rolls and a bunch of pudding.  I had three (3) glasses of pink lemonade.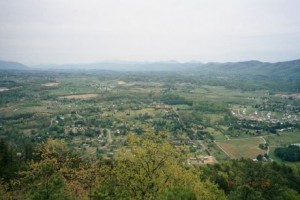 Once back at the room, we couldn't get rid of Dalewood.  He's a super guy but it's obvious he is a very lonely guy.  We all packed and made phone calls.  Dalewood came back after a short time and informed Agatha he arranged for her to be able to stay until 3 PM in the room until he picked her up.  He is truly a Trail Angel.
Scatman 2011-Yet another super short day on the trail.  New shoes and lots of food made for a great day.  I feel bad reading the last paragraph.  Without giving souls like Dalewood the logistics of town would be so much harder.  He meant well but we needed rest.

The shoes I got would take me all the way to Gorham, NH.  In actuality I should have replaced them much sooner but they did the job.  Little did I know at the time shoes break down after 300-500 miles of daily use.  I was such a newbie back on the AT.
———-
Scatman
Get out there!
https://oneofsevenproject.com/wp-content/uploads/2019/01/14-12-300x200.jpg
200
300
Craig Fowler
http://oneofsevenproject.com/wp-content/uploads/2017/01/1of7-logo-lockup-grey-1132x212-300x56.png
Craig Fowler
2001-04-25 09:00:18
2019-01-23 13:26:45
Appalachian Trail Day 57 - Lamberts Meadow Shelter - Daleville