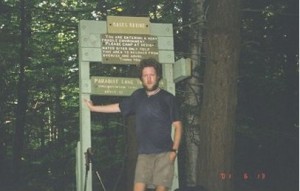 Appalachian Trail Day 106
Day 106, 06-13-01
Brassie Brook – Great Barrington, MA
16.8 miles, AT  –  1502.2
7:15 AM 2 PM
I got up late again and was slow to get moving.  I slept well though.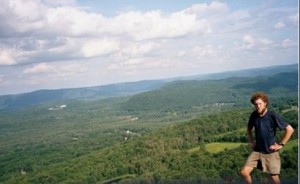 I loved Sages Ravine.  It was so beautiful.  It was a perfect picture of a mountain stream.  I met a group of 14-year-olds out on a three day hike.  Later at Bear Rock Stream Campsite, I ran into Captain and Speedy.  We talked for a while and then went our ways.  I caught them later on Race Mountain.  We hung together for a while until I took off to get into Great Barrington, MA. The climb down Jug End was tough.  It was hot as hell too.  There were lots of fields and swamps to go through.  My neck got a little too much sun.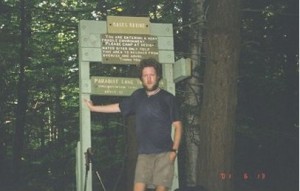 No one would pick me up on Rt. 7, so I called my friend Steffan.  He picked me up and we went back to his bike shop.  We hung out till closing then it was off for a bike ride around town.  He had just built a new DH bike so we had to test it out.  We didnt eat until 10 PM.  I was up till 1 AM.  I was beat but it was really nice to see him.  Great Barrington is a great town. I really liked its setting.
Scatman 2011- I don't recall the hike much but I do recall hiking into town.  I hiked along a river and close to some houses before hitting the main road into town.  I had a blast riding around the little town.  It had been a long time since I pedaled a bike.  It was a blast.  I felt like I was 12 again.  The late night took it's toll on me and when I went to bed I was out cold.  It was a very long day as far as hiking standards go.
———-
Scatman
Get out there!
https://oneofsevenproject.com/wp-content/uploads/2019/01/22-24-e1307945925382-300x191.jpg
191
300
Craig Fowler
http://oneofsevenproject.com/wp-content/uploads/2017/01/1of7-logo-lockup-grey-1132x212-300x56.png
Craig Fowler
2001-06-13 09:00:02
2019-01-20 12:17:47
Appalachian Trail Day 106 - Brassie Brook - Great Barrington, M