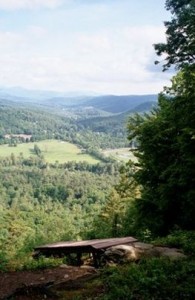 Appalachian Trail Day 105
Day 105, 06-12-01
Pine Swamp – Brassie Brook Lean-to
21.0 miles, AT  –  1485.4
7:40 AM 6:00 PM
It rained cats and dogs last night.  Lightening all night too.  A big storm.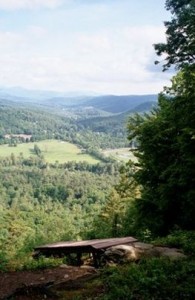 I found out that head nets hold in a lot of heat.  I jury rigged my tent inside the shelter.  My tent isn't free standing.  I put it up inside and took off the head net.  It was really muggy and I wanted to lay out but the bugs were getting me.
I slept in big time.  No one around to wake me up.  I got going pretty quick though.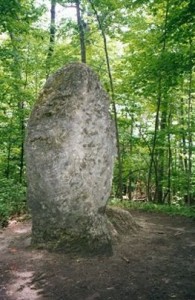 It  was another hot and humid day.  My plan was to do 16.6 but it turned out to be 21 with a mile side trip to Salisburg, CT.  I got two Cokes and a soft serve chocolate ice cream cone.  Not many people on the trail.  I got to see a bunch of great views and I'm also enjoying the New England woods.  I saw BA in town, but he pushed on 7 miles to join the gang.  They're about four miles up right now.  In a way I wished I was with them.  I left my group back in Kent for two reasons:  1) to hike and be alone for a while.  During the evening last night, and part of today I went 19+ hours without seeing or talking to anyone.  Right now besides saying a fast hello to a passing day hikers, its been 4 hours since BA left and after my second night camping along, I've had enough.  Being alone is not fun, in life or in the woods.  I have to stick it out until after my 30 miler.  Then I can hit the brakes and let my group catch me.
I saw a snake today but thats about it.  I trimmed my mustache.  I had to wipe my mouth after every bite since there was so much hair in the way.
By pushing on today, I have cut out a day and I will be in Great Barrington tomorrow.  I told my friend there I would be there Thursday just today.  I hope he doesn't have plans tomorrow night.
Scatman 2011- Now that I've done the PCT and spent 30+ days alone hiking I realize it takes a few days or more before I get comfortable spending my days alone.  Maybe that's just me but I now like to start with others and at some point I'm fine with going on my own.  I do not recall the storm at all but I do remember putting up my tent in the shelter.
Appalachian Trail Day 105———-
Scatman
Get out there!
https://oneofsevenproject.com/wp-content/uploads/2019/01/22-21-e1307805399208-195x300.jpg
300
195
Craig Fowler
http://oneofsevenproject.com/wp-content/uploads/2017/01/1of7-logo-lockup-grey-1132x212-300x56.png
Craig Fowler
2001-06-12 09:00:05
2019-01-20 12:19:22
Appalachian Trail Day 105 - Pine Swamp - Brassie Brook Lean-to