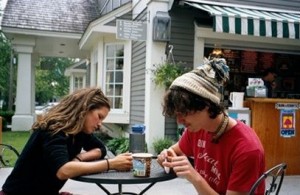 Appalachian Trail Day 115
Day 115, 06-22-01
16.0 Miles, AT  –  1648.1
Manchester (Jens) – Big Branch Shelter
1 6:30 PM
We all got up late.  Crash and Speedy cooked eggs and pancakes for everyone.  The eggs were great.  Jen took us to the trail in two groups since we didn't fit at once.  But before we hit the trail we went back to town and Captain got a new spoon and we all got ice cream at Ben & Jerrys.  When Jen dropped Zorro off, she picked up Vice.
On top of Bromley Mountain was a fire tower.  We got some views in between the clouds that were streaking by.  I pushed on alone.  At Peru Peak Shelter, I decided to push on to the Griffith Lake Tenting Area.  I talked with the caretaker there.  Her name was Kate.  She was really nice to talk to.  BA, Burn and Arlo passed by.
I caught Arlo and right before Lost Pond Shelter a huge tree limb fell about 150 feet in front of me.  It made an awful noise when it fell.  Tangent was at the shelter.  Since she went home, she is on a mission to finish the hike.
At camp there was a large stream/river down in front.  I went in but it was super cold.  I actually fell in.  I planned to slowly lower myself in but my hand slipped on a rock.
The no-see-ums were terrible.  Captain and I look like we have chicken pox on our hands and arms.  They ate us alive.  I slept terrible because it was hot and I tried to stay inside the bag as much as possible to keep from getting bit.
We've done over 1600 miles now.  We are definitively starting to kick back and slow down.  After looking at Jens PCT (Pacific Crest Trail) pictures, I want to hike it so bad.  It's a different world our there.  The PCT is 2640 miles long but takes the same amount of time as the AT.  Who's coming with me?
Scatman 2011- Funny I remember the tree that fell was only 15-20′ in front of me and Arlo was the same distance in front of it.  It split us and when it fell we both had the same look on our faces, "That thing could have crushed us!"  The No-See-Um's were incredible.  If it's not one thing on the trail it's something else.  Murphy's Law as they say.  Still almost nothing is bad enough to quit, maybe endless rain would make me quit.
———-
Scatman
Get out there!
https://oneofsevenproject.com/wp-content/uploads/2019/01/24-24-e1308723023310-300x195.jpg
195
300
Craig Fowler
http://oneofsevenproject.com/wp-content/uploads/2017/01/1of7-logo-lockup-grey-1132x212-300x56.png
Craig Fowler
2001-06-22 09:00:19
2019-01-20 11:15:39
Appalachian Trail Day 115 - Manchester - Big Branch Shelter