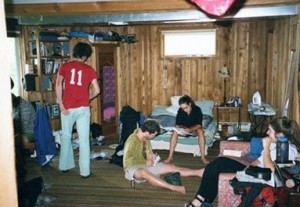 Appalachian Trail Day 114
Day 114, 06-21-01
Statton Pond – Jens House
10.6 miles, AT  –  1632.1
7 AM 11:45 AM
Day 24 Rain
Tonight were at a girls house who picked us up at the PO.  We didn't have a place to stay and she offered.  More on this later.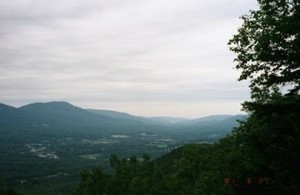 I awoke to Captain Nemo pulling at my sleeping bag. He scared me big time.  I asked him to wake me the night before.
I packed up and said good-byes to everyone, including the caretaker, Jim, who was very cool.
Stratton Pond is so nice of a place.  Loons, moose and bears all in one place.
The trail was super muddy from the rain.  I took my third fall of the trip.  But Captain Knatty says it wasn't a true fall.  A true fall involves the ass hitting the ground.  Mine did but only after I let myself down from my brace of catching myself.
Dad was late picking us up.  We played Hackie Sack.  In town we went to the PO and thats where Jen picked us up.  We all went for lunch then Mom and Dad and Gram went on their way.  We have been hanging out at Jens place, which is a one-bedroom studio.  Theres a cat named Girl, Jen and eight hikers.  Full house tonight.  It's late and no one is going to bed.  I'm ready to crate.  Jen made chili.
Crash is making dreads with Captains hair.  He is giving Burn a back rub.  It's like a train.
Scatman 2011- Though we didn't hike far as usual this day was full of activities.  It was so great to see my folks and grand mother for the first time since Mothers Day back in Harpers Ferry.  Some how we fit 11 adults, 8 packs, and luggage for 3 in my dad's Suburban.

Jen was super cool and such a trooper for letting 8 strangers stay in her little studio.  It was here I sewed the "Life is Good" patch to my shorts.
———-
Scatman
Get out there!
https://oneofsevenproject.com/wp-content/uploads/2019/01/24-21-e1308720898232-300x207.jpg
207
300
Craig Fowler
http://oneofsevenproject.com/wp-content/uploads/2017/01/1of7-logo-lockup-grey-1132x212-300x56.png
Craig Fowler
2001-06-21 22:35:07
2019-01-20 11:18:17
Appalachian Trail Day 114 - Stratton Pond - Jen's House