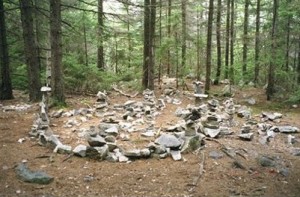 Appalachian Trail Day 116
Day 116, 06-23-01
Big Branch – Clarendon Shelter
16.0 miles, AT  –  1664.9
9 AM 7:30 PM
Woke up late.  The trail was muddy too.  I stopped at Little Rock Pond to talk to the caretaker.  A loon went by twice while I walked the pond edge.  It made so much noise.  They can fly at 75 mph.
The climb up to the top was spectacular.  Very much like Maine.  I had lunch on a lookout facing west.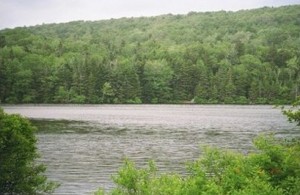 At Rt. 140 I had a chance to compare my strength to that of two years ago when Christie and I hiked the same section.  Bear Mountain was a lot easier this time.  It wasn't the lung busting climb it was with her.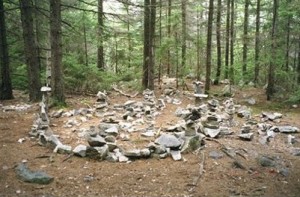 I didn't swim at Clarendon Gorge.  I just washed up and rinsed my shirt.  Then it was off to Whistle Stop Restaurant for a burger and fries.  BA, Crash, Burn and Arlo joined me.
Tomorrow its off to Rutland and the Condo at Pico.  I hope the weather is good so we can use the Alpine slide.
The climb up to tonight's shelter wasn't too bad.  It is a tough one on a weekender.  No snakes or frogs like when poor Christie lead the way.  I did see two snakes earlier in the day.
Scatman 2011- Back in NY I mentioned how my feet were burning and all blotchy from my socks having too much bacteria in them.   Well they were on fire today but while at Whistle Stop I aired them out.  It only took the 1/3 of a mile with my shoes back on for it to start again.  I don't believe I got socks until Dartmouth, NH.

The hike was good and went by quick.  I don't recall it being too hard of a day.  I was enjoying the new gang a lot by now.
———-
Scatman
Get out there!
https://oneofsevenproject.com/wp-content/uploads/2019/01/25-09-e1308796469119-300x197.jpg
197
300
Craig Fowler
http://oneofsevenproject.com/wp-content/uploads/2017/01/1of7-logo-lockup-grey-1132x212-300x56.png
Craig Fowler
2001-06-23 09:00:14
2019-01-19 15:50:03
Appalachian Trail Day 116 -Big Branch - Clarendon Shelter