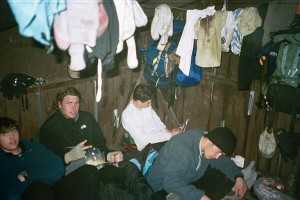 Appalachian Trail Day 13
03-12-01  Day 13   6:05 PM
14.8 Miles, 141 AT miles
Tellico Gap – Sassafras Cap Shelter
Rain in the afternoon, warm, overcast.
Day 4 of Rain
Stayed at a hostel last night.  Ron Vaughan was his name.  He has hiked the PCT twice, CDT once, and the AT once.  This guy was a fountain of knowledge.  We talked to each other and watched the "Matrix".  Lasagna for dinner, ice cream, popcorn and waffles in the morning.  I showered but couldn't do laundry.  A very good stop.
The hike itself was easy at first and then a killer climb and then a killer descent.  Painful doesn't describe what the knees felt.
On Monday after leaving Ron's, it was a short climb, then a long descent to the N.O.C. (Natahala Outdoor Center) in Wesser.  Not a town just an outdoor store.
I got to the NOC at noon.  I had lunch with Citrus.  A buffalo chicken sandwich.  I then made a terrible decision to push on to Sassafras Cap Shelter.  When I finally made the 7 miles and 3,000 feet of climbing in the pouring rain, I got to a full shelter, wet boots and packs everywhere.  Clothes (we) hung on every nail and lots of people.  I managed to sleep across the feet of the other 7 people there.  It was one of my worst sleeps yet.  It was only 42° but everything was wet and cold.  I  had people kicking me all night and wet boots on my other side.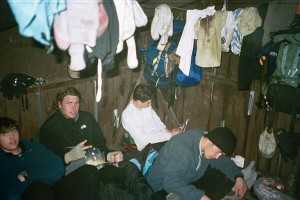 When I got up the rain started again.  Right now I'm at Brown Fork Gap Shelter to dry out clothes while the sun is its warmest.  I will head on to Cable Gap Shelter tonight.
———-
Scatman
Get out there!
https://oneofsevenproject.com/wp-content/uploads/2019/01/4-5-300x200.jpg
200
300
Craig Fowler
http://oneofsevenproject.com/wp-content/uploads/2017/01/1of7-logo-lockup-grey-1132x212-300x56.png
Craig Fowler
2001-03-12 09:00:46
2019-01-24 21:38:45
Appalachian Trail Day 13 - Tellico Gap - Sassafras gap Shelter