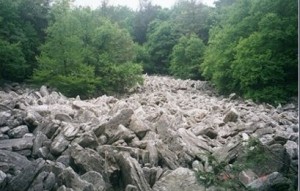 Appalachian Trail Day 87
Day 87, 05-25-01
501 Shelter – Port Clinton
23.7  miles, AT  –  1197.4  400 feet
6:30 AM 3:00 PM
I woke up around two when Vice came in from Answering Mother Natures call.  Vice can be noisy.  He wasn't this time but I woke up anyway.
We all got up early for the big 23.7 mile day.  Why I don't know, I was done by 3 PM/  My feet were killing and still do! Rocks, lots of them. The only good thing is theres only 4 days left.
I'm on my 87th day, with 75 left.  It makes me sad to think I'll be done soon.  I know 75 days is a long time but days seem to fly by out here.  I Mean I did 15.7 miles in five hours over nasty rocks.  It went by in no time.  I'll be in CT/MA in mid June.  Time is flying!  It's about ten days to hike from Delaware Water Gap to the NY/CT line.
I caught Anduleia, Speedy, Mukwa, and their friend, Bill.  Brent and Andy were in town when I arrived.  They were supposed to do another 15 miles but when I left the bar they were drinking.  I don't thing they made it out of town.
Tonight we are sleeping on a covered pavilion in Port Clinton.  It's raining and its very damp.  I put my tent up but I'm still going to wake up damp.
I have tons of food now.  I'm bumping most of it ahead but the holiday is messing things up.  I don't know how Im supposed to get my shoes in the Water Gap.  I don't thing they'll get there in time.
The bird count is up to 67.  I saw a Belted Kingfisher. Cliff Swallow, swans, and white geese (snow geese?).
I saw a deer (55) right as I left the woods today.  It was right next to me when it ran up the hill.  She/he stopped only feet up the hill, so I got a picture.  I hope it comes out.
Time to get ready for bed.
Scatman 2011 – Port Clinton wasn't much of a town but if it has a Post Office it's all a hiker needs.  Even then a Post Office isn't necessary if an outfitter or other location in town accepts packages.  There was an outfitter in town and hotel with a restaurant.  I believe I at there with some of the group.  Years later I worked with the owner of the outfitter to get Nuun in his store and also supplied a few of his Boy Scout trips with Nuun.
———-
Scatman
Get out there!
https://oneofsevenproject.com/wp-content/uploads/2019/01/19-08-e1306306491820-300x191.jpg
191
300
Craig Fowler
http://oneofsevenproject.com/wp-content/uploads/2017/01/1of7-logo-lockup-grey-1132x212-300x56.png
Craig Fowler
2001-05-25 09:00:30
2019-01-22 11:03:04
Appalachian Trail Day 87 - 501 Shelter - Port Clinton