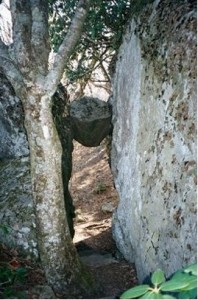 Appalachian Trail Day 60
Day 60,  04-28-01
17.7 miles, AT  –  763.8 835 feet
Cornelius Creek – Matts Creek Shelter
70°
Well, I was much warmer last night.  Bill gave me a silk bag liner.  Plus I think it was warmer too.  Al only snored a little.  A mouse chewed into my toilet paper and Wet Ones!   Little B________.
As usual, I forget to mention Al and I saw a deer sleeping on the side of the road.  Al said Look at that stupid deer, sleeping on the side of the road like that!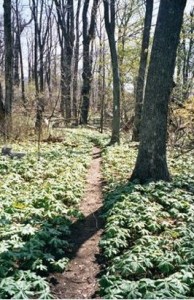 Today I saw two deer (25).  Today was a good day of hiking.  Most of the day the footing was flat.  It was hot at times.  It's amazing how we can go from lush green woods to arid hot woods at the turn of a corner.
My feet were better today, but I have a slight discomfort in my left knee.  We climbed over Apple Orchard Mountain (4,225 feet) which is the highest mountain until Moosilauke in New Hampshire.  On top there was a globe like the one in the Raynham Industrial Park.  We had snacks at Thunder Hill Shelter.  Along the way between shelters, we crossed a 50k trail running race.  All you could hear were people yelling as they ran.  We had lunch on top of High Cock Knob.  What a bitch of a climb.  We had lunch on top before moving onto the shelter.  The descent to the shelter seemed to go on forever.  Once at the shelter a grandmother, grandfather and grand children gave me toast and peanut butter crackers.  Once Al and Bill were there, we swam in the creek, even after two kids spotted a snake in it.  The water was cold, but it was nice to bathe.  There are a lot of carpenter bees around the shelter.
We are with Patrick (thru-hiker) and his friend.  They have a three (3) month old Australian Shepherd with them.  I feel really bad for the dog.
Tomorrow is looking to be another tough day.
Past Apple Orchard Mountain we passed The Guillotine.  It's a rock that hangs between two other larger rocks.
Scatman 2011- This day had a lot of exposed hike up high.  I remember the heat and how nice it was to bath in the stream in front of the shelter.  Bill and Al sat around in their birthday suits until Patrick and his friend showed up.  I teased them they were going to get mosquito bites on their privates.

As I mentioned before Al is a practical joker.  He told me when he's driving his grand children around he'll use the line,  Look at that stupid deer, sleeping on the side of the road like that! when he saw a dead deer.  The kids would yell back, "Grandpa, he's not sleeping he's dead!"  He'd pretend not to believe them and threaten to pull over and check.
———-
Scatman
Get out there!
https://oneofsevenproject.com/wp-content/uploads/2019/01/15-01-e1303876622443-198x300.jpg
300
198
Craig Fowler
http://oneofsevenproject.com/wp-content/uploads/2017/01/1of7-logo-lockup-grey-1132x212-300x56.png
Craig Fowler
2001-04-28 09:00:37
2019-01-23 13:20:00
Appalachian Trail Day 60 - Cornelius Creek Shelter - Matts Creek Shelter