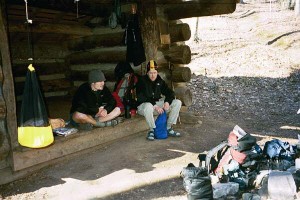 Appalachian Trail Day 14
03-13-01 Day 14
15.2 miles, AT – 156.2
Sassafras Gap – Cable Gap Shelter
Day 5 of rain
This morning (03-13) was the second time I thought about stopping on a climb. The climb was terrible. My poor legs haven't had a day off and they feel as if they are about to quit. I foresee this journey to be a very tough one indeed.
After Citrus and I stopped to dry out the hike had a few more ups and downs. My right knee is the bad one lately. We ran into some college kids on spring break from UNH. They were doing trail work.
This one brunette with green shorts was a total cutie. After Citrus and I got to the shelter all the girls plus one trail organizer showed up. The cutie one seemed to be giving me the eye or maybe it was just the fact I've been in the woods too long and I imagined it. Cute all the same.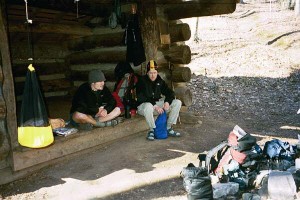 Tonight we have Brett (Austin, TX), Austin (Penn), George/Laura (Weston) and Citrus and I. Not as bad as last night. Tomorrow Citrus and I plan on getting a room in Fontana Dam and watching "Survivor". I plan on a zero day on Thursday. I need it. My legs are getting really tired.
Scatman 2011- When I look back now I think the rain and lack of rest really was taking its toll on me. I was also pushing my daily mileage up too so I was pretty tired most nights. This section was pretty much one big PUD (pointless up and down) and they were steep too.
———-
Scatman
Get out there!
https://oneofsevenproject.com/wp-content/uploads/2019/01/4-11-300x200.jpg
200
300
Craig Fowler
http://oneofsevenproject.com/wp-content/uploads/2017/01/1of7-logo-lockup-grey-1132x212-300x56.png
Craig Fowler
2001-03-13 09:00:26
2019-01-24 21:37:20
Appalachian Trail Day 14 - Sassafras Gap - Cable Gap Shelter