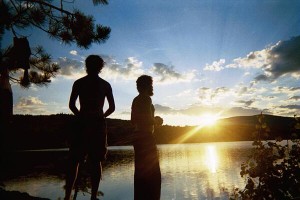 Appalachian Trail Day 143
Day 143, 07-20-01
Bigelow – Pierce Road
17.3 miles, AT – 2012.9
I was super tired when I got up today.  The hiking was so easy compared to the last couple of days.  Only two hills that were easy.  It was hot and humid but there were also lots of ponds to swim in.  I swam in Easy Carry Pond and had lunch.  I saw a 7 inch leech swim by me.  That was enough to get me out of the water Jeff and I swam there but he also swam in Flagstaff Lake.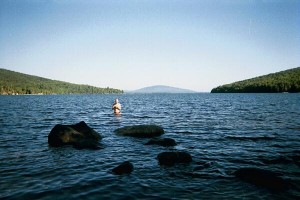 As I left the swimming hole, I saw a loon.  Then I took a few steps and I saw a cow (moose).  She was scared of me and she took off swimming towards the other side of the cove I was at.  I couldn't get a photo. I walked twenty feet and heard what I thought was turkeys.  It turned out to be two baby calves.  They were trying to get into the water.  Jeff came along and spooked them.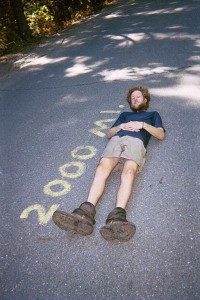 I got to camp in no time.  I went for another swim, saw a fourth moose (cow).  I'm really spent.  Tomorrow is another big day.  I also saw a bunch of tiny snakes, too.  We're on a beautiful lake tonight.  I put my tent up within 3 feet of the shore.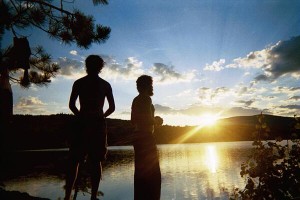 Along the way to camp tonight I swore I was lost or on the wrong trail.  There were very few if any blazes and the trail just look like an old dirt path.  I was starting to worry for a bit.
Today we cross the 2000 mile mark.  Jeff and I stopped and celebrated.  The words 2000 miles is written on the road as a marker.  I laid down on the road and Jeff took my picture.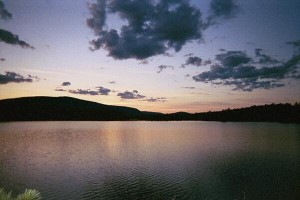 This shelter was absolutely great.  It was right on the water, faced the sunset, and had some water falls right near it.
Scatman 2011- Pierce Pond Lean-to was great.  It was more the setting than the shelter itself.  We were finally away from the crowds we had been in for a while on this night too.  That's not to say there were a bunch of us here.  Our tribe contained 7 and Jeff made eight.  Hitting the 2000 mile maker was a huge mental boost for most of us but a reminder that we were close to being done.  4 moose in a day is a record for me I believe, on or off the trail.  Little did we know but the rain that plagued us for days gave way and for the remainder of the trip it would just get more humid and the temperature would rise.
Scatman
Get out there!
https://oneofsevenproject.com/wp-content/uploads/2019/01/204-300x200.jpg
200
300
Craig Fowler
http://oneofsevenproject.com/wp-content/uploads/2017/01/1of7-logo-lockup-grey-1132x212-300x56.png
Craig Fowler
2001-07-20 09:00:07
2019-11-29 22:10:39
Appalachian Trail Day 143 - Bigelow - Pierce Road