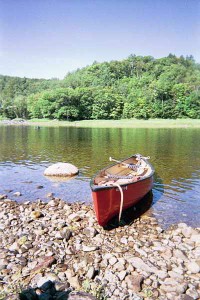 Appalachian Trail Day 144
Day 144, 07-12-01
Pierce Pond – Bald Mtn. Lean-to
18.7 miles, AT – 2031.6
I was awake early but I stayed in bed for what seemed forever.  The loons called throughout the evening and in the AM.  Listening to the loons is so peaceful.  I love it.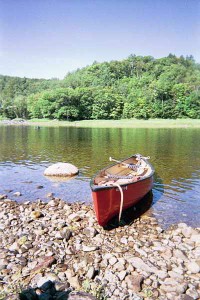 I got down to the Kennewick River pretty early.  I wanted to swim across but the ferryman isn't allowed to take just my pack.  Legal reasons.  This kid, a friend of Clydes, did swim.
He had brought some trash bags with him!
I then went to the PO and got a ride from the ferryman to his store.  I got a Coke and a pint of ice cream.  Mike then drove Jeff, Burn and I back to the trail.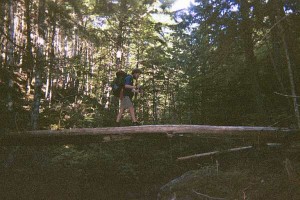 I so didn't want to leave that store.  It was so humid, no one wanted to hike today.
It was super hot and humid today.  I caught BA and Burn on Pleasant Pond Mtn.  BA was picking blueberries.  I sat on top trying to see Katahdin but I couldn't see it. Soon after leaving the peak, I served into the net.  This is a fart tennis term.  If you really want to know, just ask.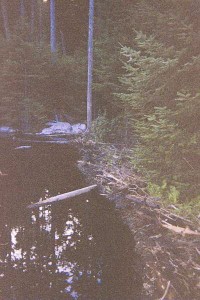 When I got to Moxie Pond, Captain and Speedy were already there.  Mike drove them.  I went swimming in the brown water.  It was so good.  Everyone showed up after a while.  Jeff got there he told me Lance Armstrong had taken the lead of the Tour!  It made my day.
While at the pond Burn decide to swim but took off her top.  Everyone but me had seen her topless so she turns to me and says, Scatman don't be looking at my tits!  She totally singled me out.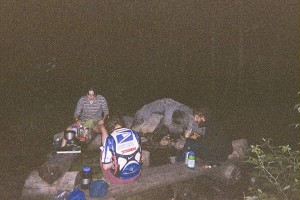 The hike to camp was easy.  The toughest part was trying not to serve into the net again.  Camp is nice and clean.  The mosquitoes were really bad on the way here.  I hope they're not bad tonight.
The shelter had a beautiful stream running by it, very cold.  A great shelter though.
Scatman 2011- The humidity caused me to more and just sweat and feel like I had no energy but it also reaked havoc on my stomach.  I had diarrhea most of the day.  I wasn't worried about giardia as I always treated my water.  I worried more about leaches in the water than microbes.  Between the head, humidity, the shits, and the mosquitoes it was a fine day.  The hiking was beautiful but the conditions tested me/us at every corner.  The kids were on a slippery slope and were taking rides whenever they could get them.  Myself I stuck to my guns and put on foot in front of the other and some how managed to keep up.
Scatman
Get out there!
https://oneofsevenproject.com/wp-content/uploads/2019/01/210-200x300.jpg
300
200
Craig Fowler
http://oneofsevenproject.com/wp-content/uploads/2017/01/1of7-logo-lockup-grey-1132x212-300x56.png
Craig Fowler
2001-07-21 09:00:36
2019-11-29 22:10:39
Appalachian Trail Day 144 - Pierce Pond lean-to - Bald Mtn. Lean-to