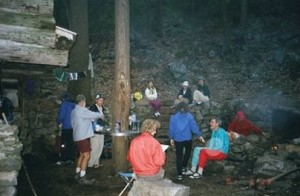 Appalachian Trail Day 85
Day 85, 05-23-01
Peters Mountain – Rausch Gap Shelter
17.5  miles, AT  –  1156.3  970 feet
7:15 AM 3:30 PM, 70s
It rained cats and dogs last night.  I was damp again.  The rain stopped in the AM.
My feet hurt again today.  I think they will hurt just like they did in NC/TN.  No fun!  Neither was putting on wet shorts and shirt.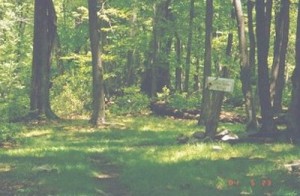 Not much went on today.  I had a nice long break at lunch with Tangent.  Right before lunch a couple of Warthogs A-10 were doing maneuvers overhead.  They were so loud.  It sounded like they were practicing acceleration maneuvers.
I keep saying Im going to cut my hair but Tangent says not too.  My scalp is getting dry.  It itches a lot.
We met a crazy looking guy before Boiling Springs.  He calls himself Hannibal, mostly likely after Hannibal Lector from Silence of the Lambs.  Since meeting him, we keep hearing crazy stories about him.  We reported him to the ATC office, but the ranger wasn't too worried.  I hope everyone is okay.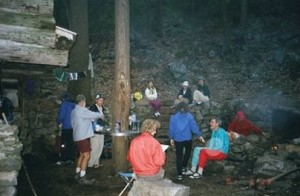 Tonight its Hatman, Happyfeet, Vice, Tangent, Disco Dan, Fish (section hiker) and 5 middle aged to 60 year old lady section hiking.  The shelter is dumpy so most are tenting.
`Tomorrow its pizza for dinner at a shelter.  Theres a phone in a nearby parking lot.
Scatman 2011- Yet another think I forgot, cutting my hair that is.  I didn't even think about it on the PCT.  It was just part of the experience.  As the read my journal I realize just how much harder the AT was then the PCT physically.  Everyday it seems I'm mentioning some sort of ache or pain.
———-
Scatman
Get out there!
https://oneofsevenproject.com/wp-content/uploads/2019/01/19-02-e1306020103948-300x196.jpg
196
300
Craig Fowler
http://oneofsevenproject.com/wp-content/uploads/2017/01/1of7-logo-lockup-grey-1132x212-300x56.png
Craig Fowler
2001-05-23 09:00:29
2019-01-22 11:10:02
Appalachian Trail Day 85 - Peters Mountain - Rausch Gap Shelter