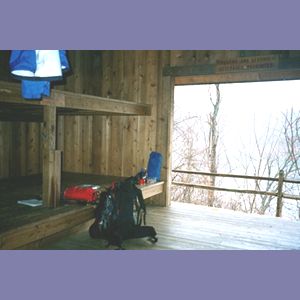 Appalachian Trail Day 16
03-15-01 Day 16 – 8:29PM
0 miles, AT – 163.1
Fontana Dam
Zero Day #1
Today was my first zero day. I slept like a baby in the hotel last night. My tattoo, I got, rubbed off a bit during the night. Took another shower in the AM and packed.
Once at the general store I bought powered donuts and Nestle's Chocolate milk. I repacked my pack and sent home stuff. I then wasted some time at the outfitter. I got to the shelter around 11:30 AM. I wrote postcards, watched birds, did word searches, had a hot lunch and the Brett from Austin, TX came. We hung out, made some calls and had dinner.
Aunt Ruth and Don are going to meet me in Davenport on Tuesday the 20th. Shower, laundry, food please!
Just Brett and I today. Citrus moved on. I heard Mr. Pat is in town and Jesse/Bris are about a half-day back. Hopefully they'll catch me after the Smokies.
Very nice shelter. Holds about 20 people. Great view of the lake and mountains. The original spot I picked to sleep had ants all over it. I had to move to the other side.
The day off was good but I really wanted to keep moving. I got bored for a while. Zero days are good for the body but hard on the mind. Too much time to think about what's going on or want is not.
Scatman 2011- It's funny I recall Bret coming by the shelter but don't recall him staying. I could be confusing him with George/Laura who stopped by but didn't stay. If yesterday was a slow day then this day crawled by. I was bored out of my skull. Zero days are so hard. As a thru-hiker you learn "Relentless Forward Motion".
———-
Scatman
Get out there!
https://oneofsevenproject.com/wp-content/uploads/2019/01/5-02.jpg
300
300
Craig Fowler
http://oneofsevenproject.com/wp-content/uploads/2017/01/1of7-logo-lockup-grey-1132x212-300x56.png
Craig Fowler
2001-03-15 09:00:12
2019-01-24 21:34:52
Appalachian Trail Day 16 - Fontana Dam