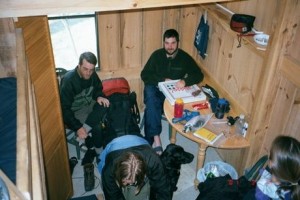 Appalachian Trail Day 26
03-25-01  Day 26
0 Miles, Zero Day 3
Hot Springs
In Hot Springs waiting for the mail.  I bought food and a new journal and a conversion kit for my MSR water bag to make it a camel back.  Less weight to carry.  I also got a book Into the Wild.  I bought a data book too so I can plan ahead more.  The more time I spend with Numb and Not Yet, the more I like them.  I like their laid back attitude.  Numb was telling me how people in Montana are individuals and not always trying to keep up with the Jones.  I like that if you can believe it.
I think of what it would be like to live in the Rockies or that area and if I could handle the change in life style.  Numb moved out there and had Not Yet even though she told him it was up to him to make friends with her friends.  He said it was tough but he's better for it now.  Even if I moved to CA with Mattie and Ashley, I think it would be the same as it is now.  As much as I can live the way, I have part of me wants something different.  The question is what and where that is.  I like N.E. but I also dislike certain things.  Granted living on the trail makes it easy to dislike the real world and work.  All you have to do is walk.  A hard task at times believe me.  It makes the rat race at home look so terrible.  I ask myself how could I do it every day?  Was I nuts?
As I move north along the trail I will think more about this and we'll see what comes up.
Tonights dinner should be good Im looking forward to it.  I want ice cream so I gotta go before the store closes.
Scatman 2011- Interesting to read the above.  I still would love to live in an area that is more country than city.  As we all know, there's not much in the way of jobs in areas like that so you either are rich or you work from home via the internet.

Just like before there are things I dislike about Seattle but the trail taught me about balance.  Everything can't and won't be perfect but as long as you keep life balanced things will be okay.  Not as easy as it sounds, is it?
———-
Scatman
Get out there!
https://oneofsevenproject.com/wp-content/uploads/2019/01/7-13-300x200.jpg
200
300
Craig Fowler
http://oneofsevenproject.com/wp-content/uploads/2017/01/1of7-logo-lockup-grey-1132x212-300x56.png
Craig Fowler
2001-03-25 09:00:46
2019-01-24 21:18:57
Appalachian Trail Day 26 - Hot Springs, NC