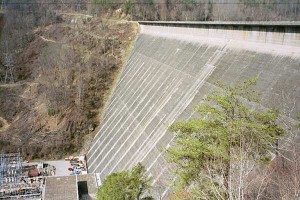 Appalachian Trail Day 15
03-14-02 Day 15
6.9 miles, 163.1 AT miles
Cable Gap to Fontana Dam
Sunny, Warm
In Wesser at the NOC I saw a river otter. I also buried a dead dark eyed Junco a day or two ago.
Today's hike was pretty easy. A lot of down (hill) though. The left knee was feeling it. I had lunch and dinner at the hotel. I showered and did laundry. I got my mail drop and talked to Mattie.
Tonight I'll stay in the hotel and tomorrow will be a zero day at the Fontana shelter. My mind doesn't want to stop hiking but I know my legs need it. Maybe Jessie and Bris will catch me. It's suppose to rain so it will be a good day to chill out and read.
Tonight we watched "Survivor". It was totally deceiving.
I saw a bird today. Gray with black head and it kicked its tail. A towhee?? I also saw a group of Evening Gross Beaks.
The dam here is pretty big, 400+ feet high, but the village is really small.
Scatman 2011- This was a pretty lazy day. There was not much to do and I got a bit stir crazy in the hotel. It was odd to be inside so much of the day. Being at the resort felt like a vacation from the hike. I had a store, outfitter and restaurant to go to.
———-
Scatman
Get out there!
https://oneofsevenproject.com/wp-content/uploads/2019/01/4-17-300x200.jpg
200
300
Craig Fowler
http://oneofsevenproject.com/wp-content/uploads/2017/01/1of7-logo-lockup-grey-1132x212-300x56.png
Craig Fowler
2001-03-14 09:00:40
2019-01-24 21:36:19
Appalachian Trail Day 15 - Cable Gap - Fontana Dam Village