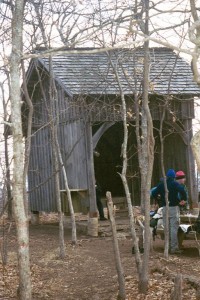 Appalachian Trail Day 2
03-01-01    Day 2 2:01 PM
7.6 miles, AT  –  7.6  .2 to Shelter
Springer Mtn Shelter  Hawk Mtn.
After I wrote yesterday, I saw some White Breasted Nuthatches and Chickadees.  Bedtime was 7 PM.  I didn't sleep much.  Phil, a gentlemen in his late 50's/early 60's, was snoring.  Phil had fell five times due to a prior stroke.  He hit his head and wanted to go to the hospital today.  I would have been proud to be a family member in the fact he was attempting the trail.  Phil moved real slow, had a sling for his arm, not much movement in his right arm and wore an ankle support.  Josh, a thru-hiker hiking with his wife, walked him back to find him a ride.
I didn't warm my water enough and it got cold fast.  Didn't brush yet, I keep forgetting.  I left camp around 8:45 AM and made it the 7.8 miles to he Hawk Mountain Shelter by 12:30 PM.  So today will be another day of kicking back.  I washed up a bit and hung some clothes out.
Tomorrow is supposed to bring rain.  It's sunny now probably in the 60's.  I saw my first trail Angel.  He was an old gentlemen in his sixties.  He gave me a Pepsi.  He had hiked last year.
The rhododendron plants were incredible today.  Some were twenty feet high!  I saw holly trees six inches around.  Plenty of streams today and huge hemlocks, almost 150 feet high!  Easy hike but much more to come.
I didn't see much in the way of animals.  Just some chickadees and crows.  The falls at Long Creek were very impressive.
My body was feeling it today for the first hour or so but after that I was okay.  The ups still knock the wind out of me.
———-
Scatman
Get out there!
https://oneofsevenproject.com/wp-content/uploads/2019/01/032-200x300.jpg
300
200
Craig Fowler
http://oneofsevenproject.com/wp-content/uploads/2017/01/1of7-logo-lockup-grey-1132x212-300x56.png
Craig Fowler
2001-03-01 10:00:22
2019-01-24 22:05:16
Appalachian Trail Day 2 - Springer Mtn - Hawk Mtn