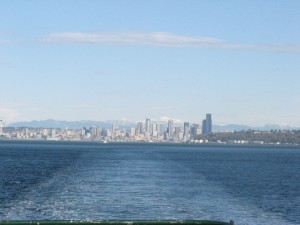 PCT 2007 Day 1
Day 1 /  3-26-07
Kenmore, WA – Mason Lake
47.79 miles; 47.79 total miles; 11.1 mph avg. 4.16 hours
50's; partly cloudy
Today started off well. I stayed at Sam's so I shared her bed with her, the cat, and the two dogs. Not the best night sleep. Tonight I will sleep like a champ.
I got started at 11:13 AM PST. It was 18 miles to downtown where I caught the ferry to Bremerton. The ride went well but I could feel the 60 pounds behind me.
My former manager, Scott, met me downtown and we had lunch before I took the ferry. I'm on the ferry now. It appears we're getting close to docking, so I'll write more tonight after dinner.
Okay it was bound to happen, yes I got lost! I second guessed myself when I got to a highway that I didn't think I was a allowed on. Not thinking that I just was in a bike lane, a short distance back should have told me it was ok. That set me back about 4 miles. I was pissed for all the wasted time.
I didn't get to my stopping point until close to 7 PM. I felt some mist while on the road but hoped it wouldn't turn to rain. It did about the time I was about to unload. I also found out I forgot my tent directions. Yes, I broke one of the top 10 hiking rules and never set my tent up before going on a trip. I had to re-adjust it in the rain.
I'm tenting behind a bath house on Mason Lake. The place is called County Park. It's flat and I'm now dry. Let's hope it's not raining in the am.
If you're wondering, I have already asked myself why am I riding to Campo. It was a lonely day once I got on the ferry. Critter List Birds: American Crow; American Robin; Song Sparrow; American Coot; Mallards (M/F); American Coot; Herring Gull; Western Grebe; Cormorant; Canada Goose; Kingfisher. Critters: Gray Squirrel
Scatman
Get out there
https://oneofsevenproject.com/wp-content/uploads/2019/01/IMG_1405-300x225.jpg
225
300
Craig Fowler
http://oneofsevenproject.com/wp-content/uploads/2017/01/1of7-logo-lockup-grey-1132x212-300x56.png
Craig Fowler
2007-03-26 22:15:34
2019-01-29 20:55:14
PCT 2007 Day 1 - Kenmore, WA - Mason Lake