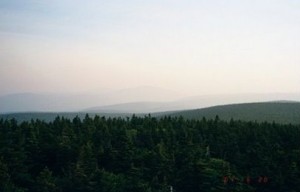 Appalachian Trail Day 113
Day 113, 06-20-01
Goodard Shelter – Stratton Pond Shelter
19.4 miles, AT  –  1621.5
6 AM 4 PM
I woke up at 5 AM to the black flies.  First one hit my face and I thought no big deal.  Then another and another, then it was time to get up.  I packed up really fast.  I only ate half my breakfast, the rest I ate at the fire tower on top of Glastonbury Mountain.  I forgot my bandana.
The hike was uneventful.  More beaver ponds and marshes.  I saw more moose droppings and tracks.  I hung out at a river before summiting Stratton Mountain.  BA went into town to get an ingrown toenail looked at.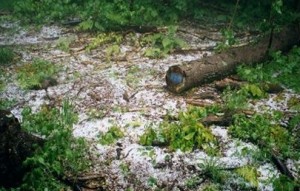 I got some more great views on top of Stratton.  Once down, I hung out at the Stratton Shelter – swam, then the lightening, thunder, rain and hail hit.  The wind was crazy.  The shelter has a tin roof so it was so noisy.  Captain, Speedy, Crash and Arlo had to hold out on the mountainside during the storm.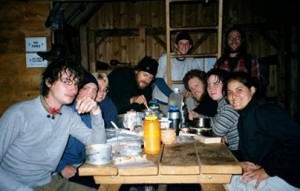 The caretaker here saw a black bear and a moose all while I was here.  I also saw a loon on the lake.  I was told they don't start calling till 11 PM.
Lots more toads today.  The bugs are suppose to be bad north of here.  I can't wait for Mom & Dad to pick us up tomorrow.
Scatman 2011- The hail storm was crazy.  Captain, Speedy, Crash, and Alro came in drenched from being caught in the storm.  We had a great day of hiking and dinner at the big table in the shelter was really great.  It felt like a feast.  The table was covered with stoves, pots and food bags.  I was disappointed I didn't see the bear or moose.
———-
Scatman
Get out there!
https://oneofsevenproject.com/wp-content/uploads/2019/01/24-08-e1308538739564-300x192.jpg
192
300
Craig Fowler
http://oneofsevenproject.com/wp-content/uploads/2017/01/1of7-logo-lockup-grey-1132x212-300x56.png
Craig Fowler
2001-06-20 09:00:02
2019-01-20 11:20:19
Appalachian Trail Day 113 - Goodard Shelter - Stratton Pond Shelter