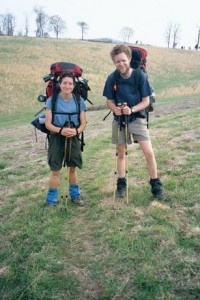 Appalachian Trail Day 53
Day 53, 04-21-01
18.5 miles , AT  – 655  2,720 feet
Pine Swamp Branch – Laurel Creek Shelter
Day 12 of rain,  65 – 70°
Al snored like a champ last night!  I slept well once asleep.  The hike was long and painful.  My feet were killing most of the day.  I walked without the insert insoles.  At first the shoes were too loose.  Then I over tightened the laces and my feet were getting numb.  I was okay on the flat and hills.  Flats areas are only a myth out here.  Rocks are everywhere out here.  I walked a 3 mile section that during it I probably had a flat spot for my feet about 10% of the time.
I'm really tired tonight.  My feet are screaming.  Agatha told me in Pearisburg that she's thinking about getting off the trail.  She is waiting till Troutville to decide.  I think she's going to get a bus in Roanoke in a few days.  I have enjoyed hiking with her for the past month.  She's a strong hiker and I'll miss here company.
Scatman 2011- Yet another painful day of hiking that just dragged on.  Note sure if you guys have noticed but the shelter this night is called Laurel Creek.  I believe that's the 4th Laurel Creek so far.  Most of this area was ridge lines and farms.  Lots of views when up high and lots of farms and fences down low.  Nothing too exciting.
———-
Scatman
Get out there!
https://oneofsevenproject.com/wp-content/uploads/2019/01/13-03-200x300.jpg
300
200
Craig Fowler
http://oneofsevenproject.com/wp-content/uploads/2017/01/1of7-logo-lockup-grey-1132x212-300x56.png
Craig Fowler
2001-04-21 09:00:52
2019-01-24 15:34:53
Appalachian Trail Day 53 - Pine Swamp Branch - Laurel Creek Shelter