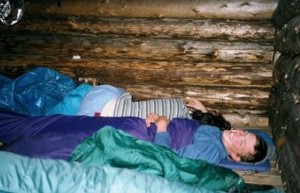 Appalachian Trail Day 124
Day 124, 07-01-01
Smarts Mtn. – Ore Hill Shelter
12.6 miles, AT  –  1762.2
I got up real early. I had to be real quiet not to wake anyone. I didn't do a good job. I was out of camp at 6 AM.
The hike down was nice. Lots of moose droppings and some tracks. I stopped at Hexacube Shelter. There was some Dartmouth College kids there. It was a really cool shelter. It was a hexagon as the name suggests. Two side were open.  Very neat.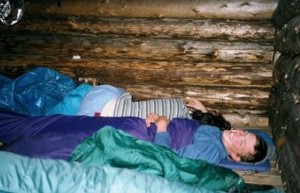 I hiked up Mt. Cube, which had granite faces. It has some nice views too. On the way down I heard thunder rolling in.
I made it to home for the night at 12 noon. I got water and washed while killing mosquito after mosquito. I walked backed to camp naked like Kevin Costner in Dances with Wolves. Lucky for me, no Indians or hikers were there stealing my stuff. As I sat to eat, the thunder turned to heavy rains and lightening. It rained until 8 PM. The thunder stayed around a while too. I took a nap and woke to find Canine hanging out. He said I was out for a while. Finally the others started to show up wet and cold.  Canine took a nap until 4 PM.
The kids, except B/A. moved on. He went onto a hostel. We all sat around till it was time to eat. After dinner we played some games, then went to bed. The mosquitoes were terrible plus it was hot. I couldn't sleep totally in my bag and I couldn't sleep with my arms out without being eaten alive. I finally put my tent up ET style. I tied a rope on the beam above me and just hooked two ties of the test to it, no poles or anything. It was like bivy. Arlo, Crash and I all did this.
Scatman 2011- I can't believe at this point I was stopping at noon for the day! It's crazy. I know it was the thought of losing my group that kept me on the same schedule as them. Unfortunately for me I just hiked a lot faster than them so I had a lot more time to kill each day at camp. I remember being all clean and smelling nice and when the kids showed up I was almost knocked over by their smell. I recall saying something to Crash and she quickly told me I stunk like that too when I had my hiking clothes on. This day taught me a hiking lesson:  As long as you don't smell worse or less than those around you no one will notice. Basically I no longer worry about being smelly when I hike because everyone else does too.
———-
Scatman
Get out there!
https://oneofsevenproject.com/wp-content/uploads/2019/01/28-14-e1309029068413-300x193.jpg
193
300
Craig Fowler
http://oneofsevenproject.com/wp-content/uploads/2017/01/1of7-logo-lockup-grey-1132x212-300x56.png
Craig Fowler
2001-07-01 09:00:40
2019-01-19 15:30:45
Appalachian Trail Day 124 - Smarts Mtn. - Ore Hill Shelter