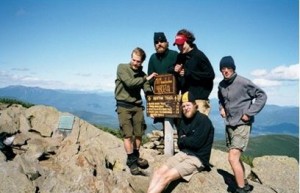 Appalachian Trail Day 125
Day 125, 07-02-01
Ore Hill – Beaver Brook Shelter
15.3 miles, AT  –  1777.5
Wow! I woke up around 3 AM feeling like my bladder was going to explode. I finally got up to relieve myself and it had turned really cold. I looked up and the stars were out in full effect. It was great but cold.
We got up early again to make the PO. There was a hostel right near the PO so we hung out there. BA. Canine and Matt (now called Velvet Jones) were already there. Matt is a section hiker. I had three sodas and a bunch of snacks. We hung out for hours before tackling Mt. Moosilauke. We played hackie sack.
Around 1 PM we left to hike. The hike was really steep.  It was a really long hike up. We went above tree line for the first time.  The wind was crazy. We hung out for twenty minutes until we were frozen. You couldn't walk in a straight line. It blew you all over. We met our first SoBos who actually started on top of Katahdin.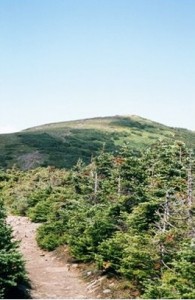 At camp there were tons of people – a group of boys from a camp and some section hikers. Two more SoBo's came by. We tried to have a fire but the wood was too wet. It smoked terrible. I made some food trades with Knatty. It's a full house and it's really cold. It's suppose to be 40°.
The view from the shelter towards Mt. Lafayette and Haystack. Early on top of Moosilauke you could see Mt. Washington.  The views are here! The Whites are wonderful. I love it up here. We are telling the kids our stories.
Scatman 2011- I recall my cousin Jason sent me a Playboy in the mail at this stop. I opened the box and just started laughing. Everyone was looking at me like, "WTF?"  The wind was unbelievable. It was like trying to cross a stream with a fast/strong current.  Your feet/legs get swept away with each step. The wind did the same thing. It was insane. The hike down to the shelter was beautiful as it descended along a water fall but it didn't compare to the views of the White Mountains on top of Moosilauke.
———-
Scatman
Get out there!
https://oneofsevenproject.com/wp-content/uploads/2019/01/28-21-e1309586895694-300x193.jpg
193
300
Craig Fowler
http://oneofsevenproject.com/wp-content/uploads/2017/01/1of7-logo-lockup-grey-1132x212-300x56.png
Craig Fowler
2001-07-02 09:30:28
2019-01-19 12:33:10
Appalachian Trail Day 125- Ore Hill - Beaver Brook Shelter