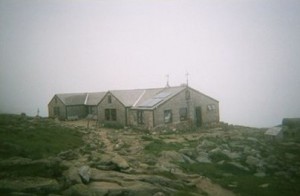 Appalachian Trail Day 129
Day 129, 07-06-01
Mizpah – Mt. Washington
6.2 miles, AT  – 1835.4
We all got up early so that we could get to the summit of Washington before it clouded up and to meet Captain's parents.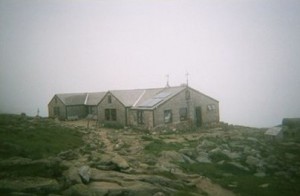 I was first to leave camp.  I was in charge of catching Canine to get his personal information from him.  I did catch him at Lake of the Clouds Hut.  I was disappointed along the way to the summit.  The AT bypasses the summits of all the Presidentals except Washington.  The hike up the summit was breath taking.  Being above tree line its great.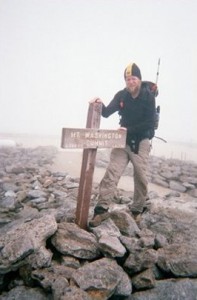 I hung out with Canine and had some cake.  The hut was really cold so when Knatty showed up, I left.  The clouds had moved in by this time.  We summited with Canine.  He took off all his shirts and had us take his picture with no shirt on.  The wind chill was 7°.  The temperature 35°
Once we were all there, we hung out inside the summit building.  His parents showed up and we piled into a small pickup and a Jeep.  The pickup brakes started to really heat up and we had to stop.  The drive down was great.  Lots of views.  Whenever I get around to racing in Mt. Washington Hill Climb, it's going to be tough as hell.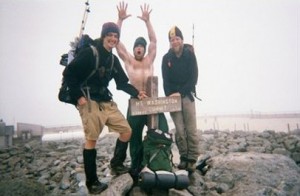 We headed to the hotel first, showered, then did laundry and had dinner.  Next up was the movies.  We saw Jet Lis new movie Kiss of the Dragon.  It was good, but we had to drive 45 minutes to see it.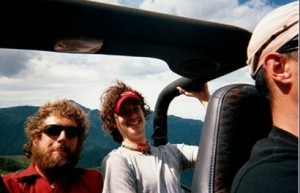 Now heres the big news.  On the way to dinner, we saw a bull moose.  Everyone on the road stopped to see him.  I didn't have my camera though.  Then on the way back to the hotel, after the movie, we saw a raccoon, red fox and a black bear ran out in front of us.  We almost hit him.
Scatman 2011- A short day of hiking but it was filled with adventure.  It's funny how you can go from complete wilderness to civilization where you have a soda and popcorn in your hands at a movie theater in just a short amount of time.  We did loose contact with Canine who was super cool but we all got a much needed break, though short and packed with errands.

The bear we almost hit was so close.  I was in the front seat and Arlo or Captain had told me if I had shot gun I had to lookout for animals.  We were speeding along and I'm half out of it when Arlo moving at the speed of light leans between the front seats and points at this bear who is square between our narrow headlights.  He screams "BEAAAARRRR!" Captain's uncle brakes, swerves and we just miss him.  I wake up like someone just threw a cold bucket of ice water in my face and my heart is pumping.  It was intense. It would be the only bear I saw on my AT trip if you don't count the two caged ones in the Bear Mountain Zoo.
———-
Scatman
Get out there!
https://oneofsevenproject.com/wp-content/uploads/2019/01/29-15-e1309966420439-300x196.jpg
196
300
Craig Fowler
http://oneofsevenproject.com/wp-content/uploads/2017/01/1of7-logo-lockup-grey-1132x212-300x56.png
Craig Fowler
2001-07-06 09:00:44
2019-01-19 12:18:27
Appalachian Trail Day 129 - Mizpah - Mt. Washington