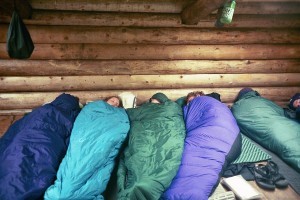 Appalachian Trail Day 136
Day 136, 07-13-01
Baldplate – Hall Mtn.
14.0 miles, AT  – 1917.6
Day of Rain 30
I never fell off the deck but I didn't sleep well either. We got up late again. I got out of camp and never saw the kids again.
The hiking was good.  Not too many really hard areas. I was able to get into a few groves. I passed some beautiful falls at Dunn Notch. I didn't take the time to go to the base of the falls but the view from the top was great.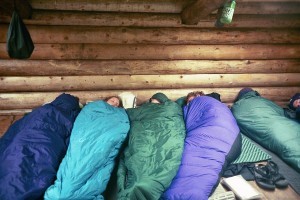 I ate lunch at West B Hill Road. The bugs were bad. This guy who runs a hostel in Andover stopped by during lunch. His name is Pegleg. He has a wooden leg from the knee down. He was funny.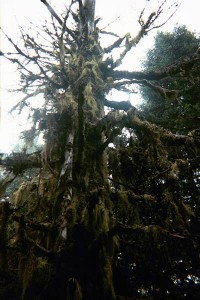 I left the road at 2 PM. Even getting to the shelter at 4-4:30, I almost didn't get a spot. The hike there was uphill so my knee didn't hurt too much. There was a bunch of French Canadian girls tenting. I never saw people use a privy as much as these girls! My stuff was all-damp all night. I got to met Pinky, a NoBo I had been behind since GA. Alro, Crash and Brett showed up to camp. Everyone else went into town.I was able to catch up writing here in the journal.
Scatman 2011- My knee was hurting whenever I went down hill today.  That rock in the Mahoosuc Notch really left its mark. My goal all day was not to repeat yesterday where I got to camp so late it was full. Being the dead of summer and such a beautiful area it didn't matter how fast I hiked or how early I got to camp, the odds were against me.

Even though we didn't believe it, most of the thru-hikers I knew had the mentality that the shelters belong to us. After all we walked from Georgia. Shouldn't we get first pick of sleeping in the shelter over tenting? We would be bummed out if we got to a full shelter. No one said this of course but we all knew the others were thinking it too. As I said though we thought it but didn't believe it.
———-
Scatman
Get out there!
https://oneofsevenproject.com/wp-content/uploads/2019/01/ROLL2DX-24-300x200.jpg
200
300
Craig Fowler
http://oneofsevenproject.com/wp-content/uploads/2017/01/1of7-logo-lockup-grey-1132x212-300x56.png
Craig Fowler
2001-07-13 09:00:07
2019-11-29 22:10:39
Appalachian Trail Day 136 - Baldplate - Hall Mtn.