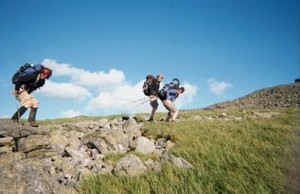 Appalachian Trail Day 130
Day 130, 07-07-01
Mt. Washington – The Perch
4.1 miles, AT  – 1839.8
Day of Rain 26
I thought we would never get on the road.  We finally got to Gorham around 11-12.  We hit Pizza Hut for lunch and it messed me up big time.  I spent more time in the bathroom at Shaws then shopping.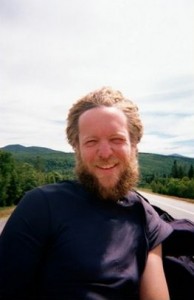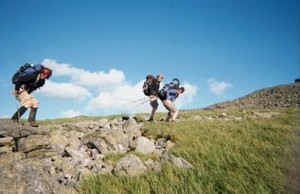 Next it was time to see if we could get back up Washington without paying again.  No luck.  The drive up was as good as going down.  There was miscommunication between the two cars.  I was in the first one and we waited over an hour for Knattys dad to show up.  It was 5:30 PM when we started to hike.  The plan was to go to the Perch but Arlo, Speedy and BA slept above tree line, Crash and Burn stayed at Madison Hut and Knatty and I walked one mile to the Perch.  Once there, we realized we were screwed.  Full shelter.  Full tent platforms and two people were on the ground behind the shelter.  I choose a spot on the ground but when I went to slip into my bag, I slide down the hill and off my Therma-Rest.  I went next to Knatty in front of the shelter.  All was good until it started to rain.  It stopped quickly so I thought we were okay.  We were both half under the roof.  Well it began to rain and hard.  Knattys  bag was soaked and so was my Therma-Rest.  We did some adjusting but the damage was done.  Knatty ended up on three large rocks and I had my feet way up and elevated on packs, shoes under my hips to help level the rocky ground and my head was on another rock.  It was a night from hell.  It was 10 when we went to bed and 1:30 AM when it started to rain.  It was a miserable night!!!
Scatman 2011- Between Pizza Hut giving me the shits and having to drop my food basket in the middle of the store and running to the bathroom and my next spent at The Perch, I would saw it was one of the worse days on the trail if not the worst.  If it wasn't bad enough I almost shit myself in the middle of the grocery store when I got to the hallway with the bathrooms the sign showed the mens room on the left and ladies on the right.  When I got down to the actually doors they were opposite!  I hesitated as I tried to process the signs in front of me.  All I could think was "I don't have time for this!"  I finally made it but I was at a level 5 Code Brown.

The Perch was a nightmare.  The people inside didn't say one word to us the whole night.  They didn't even offer to move their packs so we'd have more room under the small over hang.  I let them know my disgust by talking in my full voice and never a whisper.  Captain and I could not wait for the night to end.  All night I worried about my down bag getting wet.  Little did I know it would rain every day for the night 7 days!
———-
Scatman
Get out there!
https://oneofsevenproject.com/wp-content/uploads/2019/01/30-25-e1310012573351-300x194.jpg
194
300
Craig Fowler
http://oneofsevenproject.com/wp-content/uploads/2017/01/1of7-logo-lockup-grey-1132x212-300x56.png
Craig Fowler
2001-07-07 09:00:25
2019-01-19 12:15:04
Appalachian Trail Day 130 - Mt. Washington - The Perch