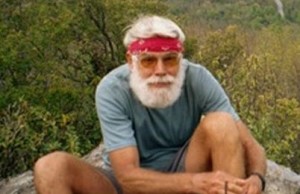 Appalachian Trail Day 68
Day 68, 05-06-01
Blackrock Hut – Hightop Hut
21.4 miles, AT  –  884  – 3,175 feet
6:56 AM 4:15 PM
60-70°, Overcast/Cool
Last night at 2:30 AM a Whippoorwill was going nuts in front of the shelter.  It only stopped because I went to the bathroom.  It woke almost everyone up.  I was cold too so I put more clothes on.  Didn't help much t00.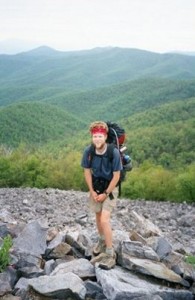 Tonight I will be cold.  It's very cool now.  Tonight will be another full night lots of us here.
I saw three rabbits, two deer (32), and lots of birds.  Saw an American Red Start at the shelter.
Al and I made great time to Loft Mountain Campground.  We changed plans to eat our packed dinner Bills wife brought.  We had it for lunch.  We had chips, apples, Oreos, Subway subs, and cokes.  I was so full afterwards.
Todays trail was the best yet.  Smooth and rolling.  Some steep climbs.  My feet loved it but my right foot started to give me trouble.  My second toe in from the left has started to smash into the end of the shoe.  If it's not one thing, it's another.
Once more twenty to do.  There is a food place at the end!
Scatman 2011- I don't remember having so many issues with my body and feet.  That AT is a beast.  It really makes me want to go back and hike it again with half the weight and see if my experience is a better one.  If you read yesterdays entry you might have noticed I talked about the Whippoorwill and I thought it was singing just as it got dark.  Seems I have forgotten a lot in the last 10 years!
———-
Scatman
Get out there!
https://oneofsevenproject.com/wp-content/uploads/2019/01/15-39-e1304666647754-300x194.jpg
194
300
Craig Fowler
http://oneofsevenproject.com/wp-content/uploads/2017/01/1of7-logo-lockup-grey-1132x212-300x56.png
Craig Fowler
2001-05-06 09:00:50
2019-01-23 13:07:16
Appalachian Trail Day 68 - Blackrock Hut - Hightop Hut